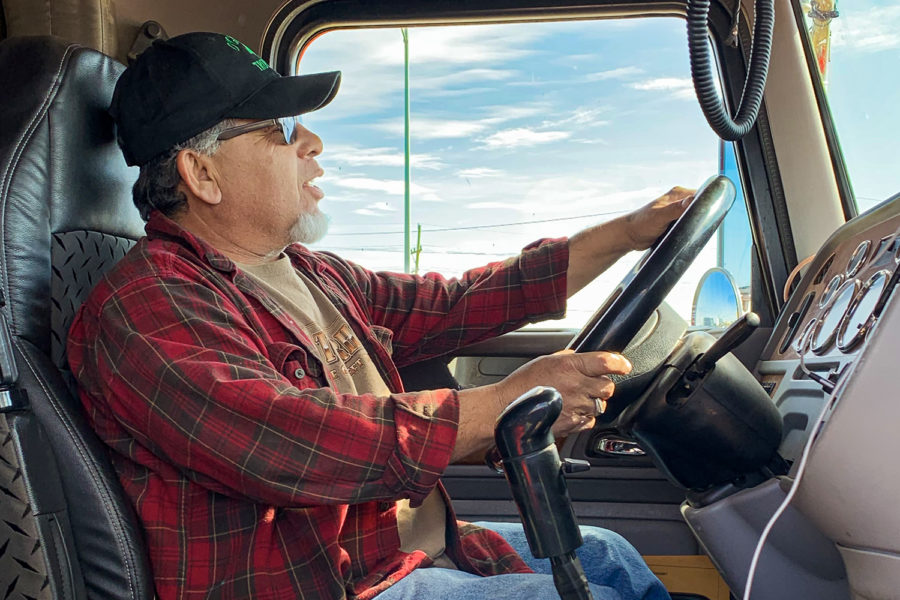 Annette Meza
Freedom. It's almost tangible when you're driving 60 miles per hour in a 53-foot 18-wheeler down the interstate. You can feel it around you as the windows are rolled down with the music on blast, marching to the beat of your own drum. Or in this case, driving.
You might make a stop at noon for lunch or call your mom whenever you like. Or take a nap in the cab of the truck for five hours or more, only if you get your load done on time. You can invite whoever you want on the trip, whether a friend or significant other depending on the company you work for. You can be your own boss. This is what being a trucker is like for most semi-truck drivers. 
However, you should also expect the unexpected. Flat tires, break-downs, delays and even being hit by another oncoming vehicle comes with the job. Phillip Jacobs, trucker for O'Grady Trucking, has almost 40 years of experience with this under his belt. 
He sits in the driver's seat of his semi. His cap lays atop his head and reads "O'Grady Trucking" in green, with a three-leaf clover in the middle. He wears a red flannel over an off-white graphic shirt and salt and pepper colored facial hair sits on his chin.
A cluttered mess of papers and miscellaneous objects sit at the bottom of the floor of the cab. In the back, a full-sized bed, a fridge, a TV and multiple cabinet compartments make up the living quarters of the semi. This is where Jacobs spends most of his time on the road, his home away from home.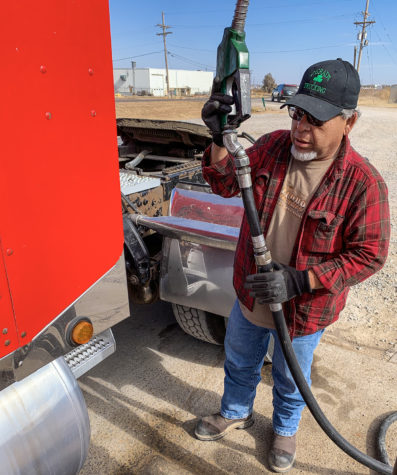 Jacobs first began trucking in 1980. He was a driver for the U.S. Army before becoming a drill instructor. After driving for the U.S. Army, Jacobs went on to haul for Halliburton, an oil company. A week was all it took for the trucker to learn the basics, since back then, you were not required to be tested at an official credential driving school. He's hauled cattle, worked for Nichol's Water Service and was a hauler for an ethanol plant. 
Jacobs says his favorite part about being a trucker is getting to see the many cities, towns and people he passes by. This seems to be a common reason among other truck drivers too, like for Chirma Burger, who is from Hugoton and is a Seward County Community College commercial drivers license/truck driving student. 
Burger agrees that the best part of the job is the sight-seeing and meeting new people, plus seeing interesting things happen on the road. But trucking is not just about the traveling and the freedom. It's long hours on the road, feeling fatigued, hours without sleep, maybe even without food and water. It's not being able to see your family for long periods of time. It's unexpected delays and accidents. Driving a truck is a skill that requires a lot of attention to the things around you and perseverance.