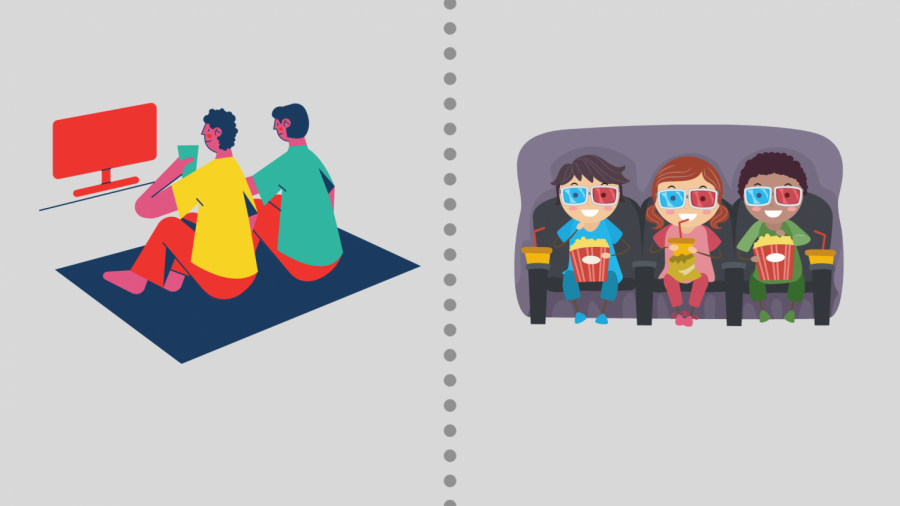 Destiny Vasquez
Most people agree that streaming services like Netflix, Hulu, or Prime Video have been a saving grace during these strange and unprecedented pandemic times. These services are used as a source of entertainment and a getaway from schoolwork, the stress of Covid and even everyday life. It's all at the touch of the fingertip. 
Aaliyah Eaton, sophomore elementary education major, said that since covid she has been using Netflix and Hulu the most and had watched and rewatched "That '70s Show" before it was taken off of Netflix.
"It was my comfort show, it always cheered me up," said Eaton.
These streaming services only have so many shows and movies and are constantly adding new things or taking away fan favorites like "Friends" or "That '70s Show." The streaming entertainment business has gotten so innovative for the fact that they are now producing and releasing exclusive new movies and shows for their service only. It always makes you wonder, what's next for online streaming? Who is going to raise the bar yet again? Well we may have some great news for our online streaming fanatics out there!
HBO Max released some exciting news dealing with their streaming service around December of 2020. It was announced that they would be partnering with Warner Brothers to release all of WB's 16 films for 2021 on the service while also premiering the same day as they are in theaters. This will be happening throughout the entirety of 2021 with the 16 films spread out throughout the year with their respective release dates. These movies can be seen in theater for their regular duration and on HBO Max for 30 days only. 
The Warner Bros. and HBO Max partnership opened up with its first taste of what is to come this 2021 with its release of Wonder Woman 1984. This movie was available on HBO for 30 days premiering on the service and in theaters on Christmas day 2020. The next WB movie scheduled to hit is The Little Things with Denzel Washington and Rami Malek, premiered on Jan. 29. Other 2021 Warner Bros. movies scheduled for this year include: The Conjuring: The Devil Made Me Do It, Space Jam: A New Legacy, The Suicide Squad, Dune and so much more. 
This information came as a shock and surprise to movie lovers around the world. They never really had this option before. The timeliness of this information however, is perfect due to the ongoing pandemic.
It's basically a win-win for students who choose to stay in the comfy confines of their dorms or homes, or for those who choose to go out and have the true movie theater experience — hopefully with masks. This is also great news for students or college athletes who just do not have the time to make their way to the theater, as they can watch the new movie whenever they would like in their own free time from their tv or laptop. 
Bryan Symons, freshman history major, said that this new strategy will help people watch new movies without the risk of exposure to the virus. Symons also claimed that this could have a negative effect on theaters when business starts to dwindle. 
The theater here in Liberal is now only open on Fridays, Saturdays and Sundays. Due to Covid-19, Southgate 6 has been showing older movies right beside the new ones with limited capacity for social distance purposes. Not a lot of movies have come out for viewing in theaters since Covid so the Southgate 6 has been showing $4 older films to still give viewers that big screen theater feel, with the occasional new movie when it's released.
When asked if he would prefer going to the movies for the big screen experience or the cheaper option and convenience of staying home with HBO Max, Symons said that he would rather stay home. "It allows for friends and family to come over for a movie night while also saving everyone a little money." 
When Eaton was asked the same question she said that she would rather stay home.
"I'm just a homebody." she said with a laugh.