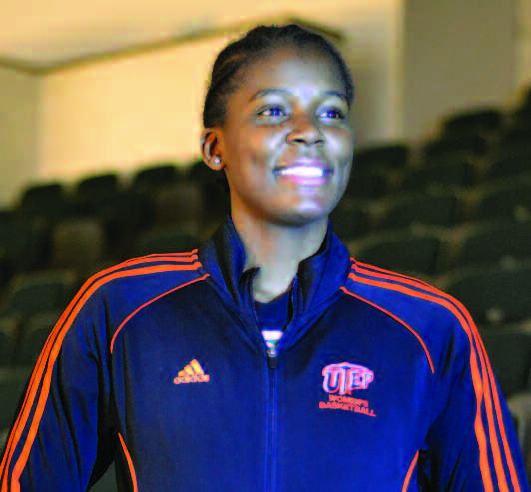 Seda's return to the court after a medical redshirt has been met with excitement by Saints fans.
One week before the Lady Saints 2013 season began, Tamara Seda experienced what she thought was normal pain in her knee, but later found out that she had torn her ACL and would be a medical redshirt her freshman year of basketball. Returning as a redshirt freshman, Seda is anticipating a great season ahead for 2014-2015.
The transition to Seward was a completely new experience for Seda, but she shared that she had quite a few people rooting for her here. Five girls before Seda had been recruited to play in the U.S. and spoke highly of her to their coaches, from there Seda was recruited to play for Seward.
As far as her Lady Saints team goes, Seda shared that the chemistry between the team is much stronger than it was last season. "It's not just because I'm playing now," Seda explained. "It's fun, we laugh a lot more."
Off the court, Seda likes to be surrounded by her friends and she added that she is also very predictable. Seda loves to watch movies, and she also likes to spend time with her best friend and teammate Rebekah Hatchard. "(Tamara) is a very outgoing person, and she loves to sing," Hatchard said.
Seda has been heard singing Beyoncé several times. "I'm sure every person who has eaten in the college cafeteria has heard her sing," Hatchard added.
"She's always singing there." Hatchard also shared that Seda is "a professional at braiding hair," because she is constantly changing her own hair styles.
Seda is also a team player according to Hatchard. "She's a great leader on and off the basketball court." Seda is the person that can always be counted on to get the rebounds, "especially if you put up a bad shot."
Expectations for the season are high as well for Seda and her teammates. "We want to make it far," Seda said. "I expect the best." As for personal expectations, Seda doesn't have any area of trouble other than procrastinating.
Even so, Seda still gets her homework done on time and was on the Athletic Director's Honor Roll both semesters during her freshman year. On top of that, Seda has also achieved KJCCC all-academic.
Behind all of her accomplishments, though, Seda has her family's support from Maputo, Mozambique. Seda has three siblings, Jessica who is 23 years old, Jorge, 14 and her youngest brother Junior is only four years old, whom she misses.
Seda has not been home since she first arrived last August before her freshman year, but she is looking forward to go home in the summer and spend time with her family after graduation. "It's hard to talk to them, because there is bad connection from here to there," Seda explained. She has only talked to them maybe three times since she has been in the U.S.
Seda is currently majoring in accounting, but is looking to change her major to business administration. She is also appreciative of the ability to change majors so suddenly because that is a commodity that is not easily available back home. "Here it's good to have change," Seda said.
Ahead of her are three more years of basketball with UTEP, but Seda shared that she doesn't know if she will want to stay in the U.S. after she finishes school. "I don't want to be away from my family."