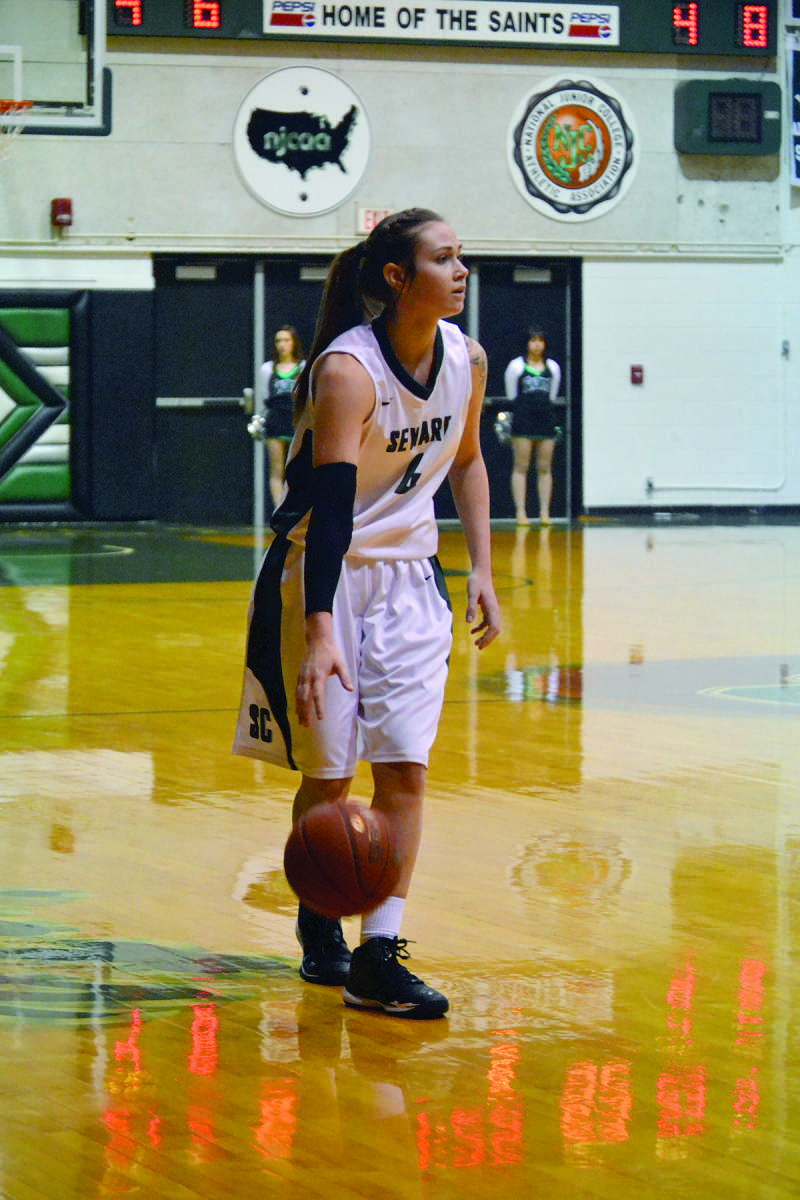 Kyndal Davis is midway through her sophomore season as a Lady Saint basketball player at Seward.
Since she stepped on campus last year she has been a key factor in a highly competitive team. Last year it came as the team's sixth man. She thrived in this role as if she had done it her whole career.
This might have come from her first time playing varsity basketball for Canyon High School. As a sophomore midseason call up for Canyon High School, Davis scored seven points in the final quarter of the state championship, including the clinching lay-up with only 11 seconds remaining.
Davis would go on from there to be the Lady Eagles leader on the court in her next two seasons of basketball before she made her decision to play for the Lady Saints. She also shared that, "The game is so much faster and the players are way more athletic than in high school."
Davis made the transition seem almost effortless.
She started her Seward career with a bang, scoring in double figures in six of the first eight Lady Saints games of the 2013-2014 season. She scored a career high 24 points against Oklahoma Baptist in mid-November and had 20 point performances later in the year against McLennan and MiraCosta.
She finished the year averaging around 10 points a game with five rebounds, but her game didn't stop there; she was also a difference maker on the defensive end. She ranked third on the team with 22 blocks and second on the team with 60 steals.
Her game isn't the only thing she has going in her favor. She has been on the Athletic Director's Honor Roll every semester at Seward, and was named to the KJCCC All-Academic team in 2014. This makes it no surprise that one of her favorite hobbies outside of basketball is to read. She plans on continuing her education after Seward to become a physical therapist.
Davis's career at Seward is far from over. With this season at its halfway mark, the Lady Saints can't complain too much with where they sit. They are ranked No. 7 in the nation by the NJCAA, and stand second in the Jayhawk West conference.
Davis attributes much of this to her team's ability to come together and play as a unit.
"Chemistry is a key aspect to our team. Being able to count on one another is a great thing when it comes to game situations. Knowing each other helps us know what each other wants and needs to be successful."
While Davis is quick to point out the team aspect of winning, it is no secret that she is a key part of the winning formula. She is no longer in her sixth man role. She now is a starter and a leader for the Lady Saints. She has started all twenty games that she has been able to play in and is second on the team in minutes played per game.
With the recent unfortunate injury to Tamara Seda, Davis is now the leading active scorer for the Lady Saints, averaging 12.2 a night. Out of the Lady Saints backcourt she is the leading rebounder, averaging 6.7 boards a game. Davis doesn't just play a factor on the offensive end. Her extreme hustle, that is impossible to ignore while watching the Lady Saint's play, puts her at the Lady Saints leader in steals, averaging 2.2 a game.
Her key role in the team isn't just recognized by outsiders, but also by her teammates. Brooklyn Artis, a sophomore guard, speaks highly of Davis. "She means a lot to our team, offering a lot with her height and speed. She is a taller guard that is extremely good at rebounding and also has a great personality that we all love."
As the Lady Saints finish off what looks like a tremendous year, one thing is without doubt. Kyndal Davis will be at the center of the team's winning. Whether it's scoring, on defense, or just extreme hustle plays like rebounding, Davis will be making a difference, and Davis and the Lady Saints hope that (her factor) can bring the same result that it did her sophomore year of high school, a championship.