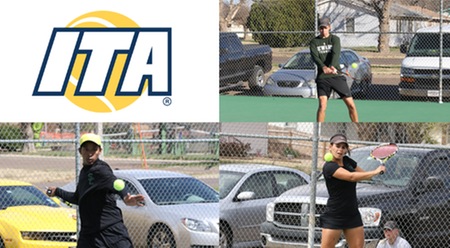 Seward County tennis players Thalita Rodriques, Carlos Anez and Ondrej Nice have been named JUCO All-Americans by the Intercollegiate Tennis Association (ITA) for the 2017 season.
Rodriques earned her second straight Region VI Singles Championship, while also placing third at the 2017 NJCAA National Tournament. Her third place finish was her second straight top five finish at the national tournament and she finishes her career with a 38-15 record. Rodriques is the first Lady Saint to be named an ITA All-American since 2015, and is the sixth in program history.
On the men's side, Anez followed up his 2016 Region VI Singles Championship with a 2nd place finish in 2017. He also earned his second straight Consolation Bracket title at the NJCAA National Championship.
Anez was also named an ITA All-American in doubles with his partner Ondrej Nice. Together, Anez and Nice compiled a 17-4 record on the season, while winning the Region VI Doubles Championship and finishing in 3rd place at the NJCAA National Championships.
Anez and Nice are the first Saints to be named to the ITA All-American list in program history.