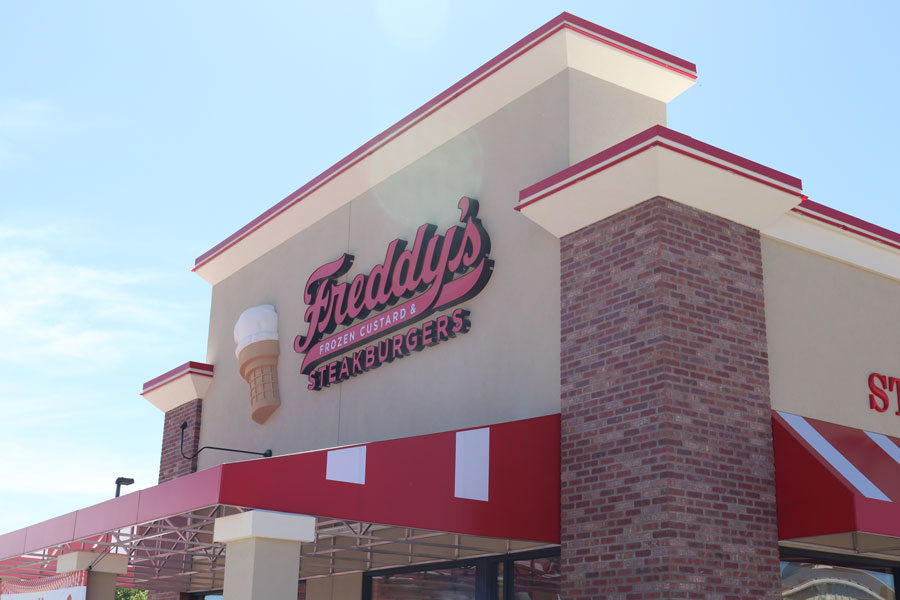 Angel Meza
Cars circled out onto the streets of Liberal as the doors to Freddy's opened for the first time on Sept. 17.
When I arrived at the restaurant, the line of people on foot curved around the new building. I wasn't sure if this was going to be worth my time or not but I wanted to know what Freddy's had to offer.
Here's what I learned:
Liberal has been waiting for a Freddy's to open for very long time. Lizbeth Macias, freshman pre-dental major, even joked that she had been waiting for a Freddy's to open "since [she] was born."
Taking this anticipation into consideration, I went in expecting a large crowd BUT the crowd blew my expectations out of the water. The crowd was so big that I had to park at Mead Lumber. PLUS I had to wait at least 20 minutes before the manager let me go in and order. They were afraid to exceed capacity; but nonetheless, people stayed in line and eagerly waited for their turn to order.

While I waited, I noticed more people becoming anxious to get inside, but employees walked around making conversation, asking you questions, and even providing you with a free combo coupon if you had been waiting for a long time. While tensions were high it didn't stop the Freddy's employees from making you feel right at home.
Freddy's customer service never wavered. When I was finally let in, I was greeted with a smile. I ordered and waited patiently while they wove through what felt like millions of orders before they finally reached mine.
By the time I got my order, I had waited for 45 minutes. I considered it a win. Thanks to the open floor plan, I was able to see the chef's and other employees working as quickly as they could to fill the orders and for that I give them all major props.
Last but not least, Freddy's is delicious and I want more.
Before going in, I asked Freddie Sandoval, freshman nursing major, what he planned on ordering. He responded quickly with, "I'm really looking forward to trying the fried pickles! They just added them to their menu!"
Of course, I had to see if they were worth the hype. They didn't disappoint. The batter used to fry them heightened the flavor of the pickle and added texture. Hearing the crunch of pickle each time I bit into one kept me reaching in the bag for more.  
I would definitely go back and order them again! I also ordered a Freddy's "original double" which consisted of 2 meat steaks layered together with a slice of perfectly melted cheese in the middle all while 2 round buns protect the outside of the burger. It was the perfect amount of meat to bun ratio and the crispy edges added a layer of texture I didn't see coming. Not to mention the creamy custard that ended the meal on a perfect note.
All in all, I give Freddy's a 5/5 for delicious food and great customer service!
Take my advice, though, if you don't like large crowds, I'd give it a couple of weeks to let the excitement die down.