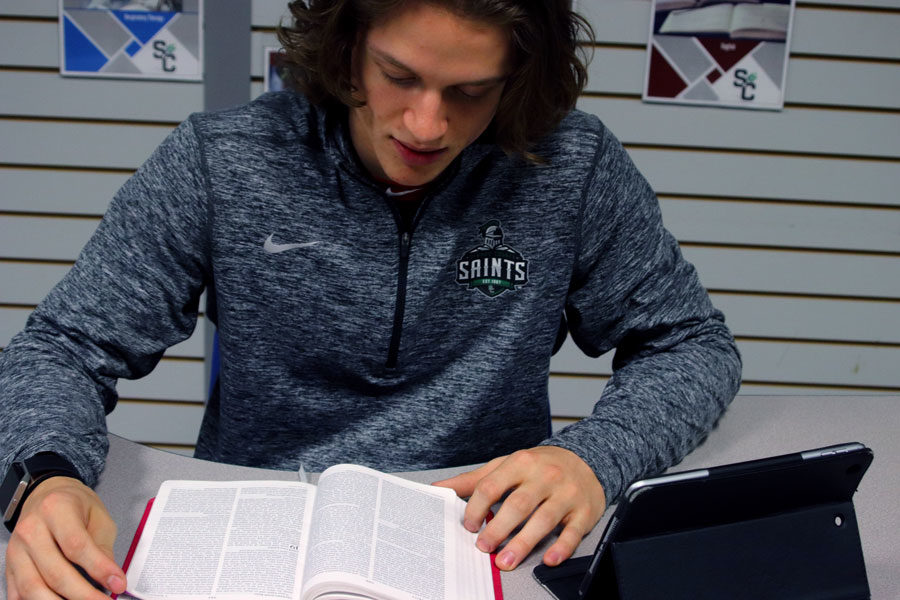 Yesenia Soto
Campus Messengers for Christ, a student-led Christian club, found different ways to grow in their relationship with the Lord through a more modern way of Bible study — text messaging.
CMC is a way for college students to strengthen their faith while also meeting friends who are on the same spiritual journey. Recently, the group decided to participate in daily Bible studies through the YouVersion Bible app. Club members check in daily with a short devotional reading, then text their thoughts to the group. It's a natural way for college students to stay engaged and connected.
Valeria Corrales, CMC member and sophomore biology major, has enjoyed growing her relationship with God through this new way of studying the Bible.
"I like the app because it helps me learn more about the Bible. There are videos and daily plans that encourage me to read everyday," Corrales said.
The first Bible study the group did was just a basic 14-day college devotional. Around 10 students participated and completed the devotional. The first devotional talked about making good choices as a Christian, ways that God speaks to us, how God is always there to help, how to talk and act like a Christian.
Once the first devotional was finished, the group started a longer devotional called: Wiser and Happier: Devotion From Times of Grace. The second devotional now has grown to 14 participants.
It doesn't take much to join a conversation about that day's topic or scripture. Just sign into the app and text a message to the group.
Other students felt like the "texting" Bible studies helped them get through the daily challenges that most college students face.
"I joined the Bible study because being in college, it's hard to stay on the path God wants us to and I just feel fellowshipping with other believers who struggle with the same things helps a lot. My favorite part is being able to see everyone's story and be able to build relationships," Vangie Padilla, sophomore CMC member, said.
The group is now on day 16 of the new 37- day challenge. The devotion talks about different things that each and every one of us can do to become a better follower of Christ. So far, the devotions have been about wisdom, temptations we face and how to go about them, remembering who we serve, tithing and many other things we as believers need to remember throughout our daily life.
If you are interested in joining Campus Messengers for Christ or want to be apart of the daily Bible study, meetings are once a week on Tuesdays at 9 p.m. upstairs in the student union.