Kansas City Monarchs history comes to SCCC
September 27, 2018
Baseball season is here! For fans, it is crucial to watch their favorite teams go to the world series. The wide range of history that the sport has is one of the reasons why people are die hard fans. Phil S. Dixon, author and baseball historian, came to Seward County Community College on Wednesday, September 26, to talk about the history of the Negro Baseball League and the Kansas City Monarchs.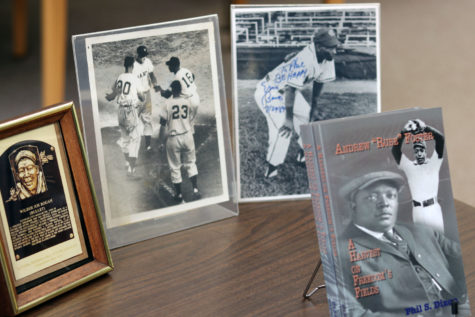 "Baseball is part of the social history of our country an it ties in together. It also shows the struggles that blacks had faced during the time. The Monarchs pioneered baseball. You would watch baseball but you rarely saw black baseball players until the Monarchs showed up and that broke some of those race barriers," Emery Swagerty, a library tech at SCCC's library, said.
The Kansas City Monarchs came to Liberal to play the Liberal Boosters in 1930. The Monarchs and the Boosters played the first nighttime baseball game in Liberal. The Monarchs defeated the Boosters 10-5.
This wasn't the first for the Monarchs to hit home. They played teams from all around the state and around the country, beating some of the most famous hall of famers' records. Throughout the Monarch's franchise, they played a total 134 games, losing only 14.
"This is unheard of because not many talk about it," Dixon explained while continuing his presentation over the Monarchs and racial relationships in sports at the time.
"The reason why the younger generations don't know about the monarchs is because its not what they are being taught," Dixon said.
An interesting point Dixon pointed out was that famous baseball hall of famer, Jackie Robinson also played for the Monarchs before becoming the first African-American player in the major leagues.
Linzy Tumen, director of the SCCC library and library technician, Deanna Martin organized the event.
"Its baseball season and the World Series is right around the corner. I love baseball especially, the Royals and the Cardinals," Martin said.
Phil Dixon named some famous players such as Satchel Paige, Willard Brown, and Bullet Rogan. These were players just to start but it was truly a time for the Monarchs in the 1930s.
The Monarchs are important to baseball's history as well as our country's history and their legacy lives on with Phil Dixon and his various books such as "Wilber "Bullet" Rogan and the Kansas City Monarchs."