Clery Act protects students
Crime stats that determine campus safety
October 25, 2018
The year was 1986 and Jeanne Clery, who was only 19 years old, was in her dorm at Lehigh University in Bethlehem, Pennsylvania. On a specific day, April 5 her dorm was burglarized and she was raped, sodomized, and strangled by a fellow classmate. Little did Jean's family know, there were already high rates of rape and crime going on her campus. This led her family to establish what we call the Clery Act.
This act, which was passed in 1990, requires schools across the country to publicize crime records to make it safer for students on campus and allowing students and their families to make the right decision when making a decision on where to go school.
Seward County Community College has published their stats from the past three years.
"Our stats look good, we are a pretty safe campus," Wendall K. Wehmeier, Security supervisor on the SCCC campus said.
All schools in the country are required to publicize this information and if they don't, they may get penalized.
"If schools don't report, they can get a fine and even get their financial aid taken away," Celeste Donovan, Vice President of Student Services at SCCC explains.
When it comes down to it, the only alarming thing for SCCC's numbers is the high number of alcohol and drug incidents the campus has. There is always room for improvement.
"We need to work on it, all campuses do. It's our job as educators to provide information so that students make good choices," Donovan explained.
All in all when looking at colleges and wanting to know a campus safety, the Clery Act is available to the public so that each student can be able to make the decision on their safety and of what school to attend. Refer to the graphic below to see statistics on the two biggest violations on the Seward County campus.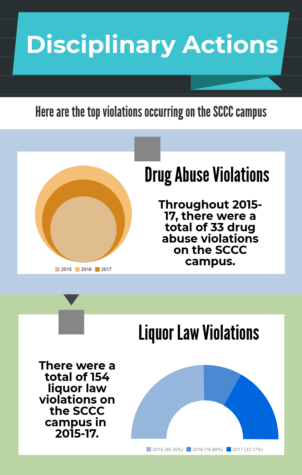 error:
Content is protected !!