Photo Courtesy of Kenny Hernandez
Will Marchino
Des Moines, Iowa - Women's Basketball Assistant Coach
Where did you come from [College, Town]?
I was working at Grand View University, located in Des Moines, Iowa, in the NAIA [National Association of Intercollegiate Athletics]. 
Why did you choose Seward County to continue your coaching career?
I've known Todd Ciochetto for over 10+ years. When he called me and asked if I was interested in the position, it was an obvious choice —Yes! When my wife, Amanda, and I came down and visited, everyone we met was incredibly genuine which sealed the deal for us.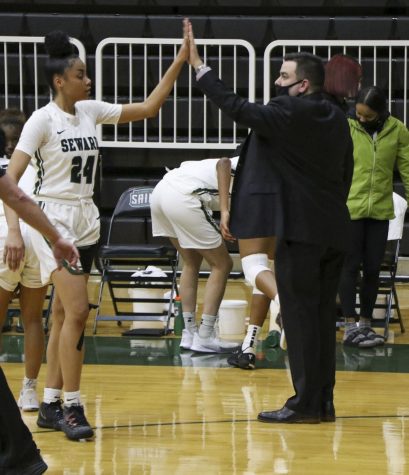 What are your goals for the upcoming season?
I want our program to be a positive influence on Liberal's youth on and off the court along with wanting to impact the community through our volunteer work. As far as on the court, we want to improve daily both individually as well as a team and be the last team standing in March, holding that National Championship trophy.
How do you plan/want to contribute to Seward's Athletic program?
I always want to be a positive influence on our athletic programs at SCCC. I believe in being solution-oriented and working hard on a daily basis.
If you could pick one movie to describe your life, what movie would you choose and why?
I would pick Home Alone. It does not describe my life, but it's one of my favorite Christmas movies!
What was your childhood nickname?
My nickname was Will the Thrill. What can l say? I had game [on the court] 10 years and 30 pounds ago.
If you could max your credit card out, what store would you pick?
I would choose Scheels, Foot Locker, Champs — any sports store with shoes cause I'm a sneakerhead.
error:
Content is protected !!