Lady Saints battle for national title, fall short in set 5
Hang on for a minute...we're trying to find some more stories you might like.
The national title game was everything a fan could want for a NJCAA D-1 volleyball championship—drama, constant lead changes, power, emotion and a "come from behind" moment. Seward County rallied from an 0-2 set deficit to force one of the greatest finishes in the tournament's history on Nov. 23 in Hutchinson.
The great comeback fell short, though, when Navarro College scored seven points in a row in the fifth and final set to win the national championship. SCCC came home with their highest finish in the national tournament ever — second.
It was an intense evening from the get-go. Navarro took an early seven point lead. The Saints rallied back to take the lead, 17-16, after a kill by Yanlis Feliz.  The score kept bouncing back and forth. Neither team could put the other to bed. A kill by Djuly Schmorantz tied the game at 24 a piece. The teams traded points all the way until 30-30. After Navarro took a one-point lead, an attack error by Felix gave Navarro the game at 32-30.
This first set became the theme and tone for the evening—playing beyond the normal 25 point game—both teams fighting until the very end.
Click on photos to view gallery:
---
The second set was even closer, as neither team lead by more than two. They changed the lead six times and had 11 ties. However, the Lady Saints got in their own way at the end. They committed four errors in the final six points to give Navarro a 25-19 win and jump ahead 2-0 in the match.
Fan craziness in the stands for Seward offered support and energy for the Lady Saints. They took to the court for a third set fired up. Dorianne Lebron added some extra energy when she was inserted in the lineup. She made an immediate impact, notching back-to-back blocks as the Saints built an 11-4 lead. While Navarro was able to keep it close, the Saints ensured there would be more volleyball after Djuly Schmorantz notched the final kill to win set three, 25-20.
From here, things only got more interesting in a drama-packed fourth set featuring multiple yellow cards and one red card.  The Saints go off to an early lead but Navarro fought back, closing in on a potential championship.  With the score 18-21 Navarro, the Lady Saints made one final push.  The dynamic duo of Laura De Pra and Yanlis Feliz were able to fuel a 24-24 tie as the crowd went crazy.
The fourth set once again went into extra points. This time, the Saints pulled it out after a service ace by Feliz. Seward won 27-25 and forced a fifth and final set to decide the national championship.
The final set featured 15 tie scores and 10 lead changes.  Neither team was able to separate themselves. After Navarro took an 8-5 lead, the Lady Saints rallied for four straight points to make it 9-8. After a big kill by Monica Wood Navarro pulled ahead. The Lady Saints came right back with a kill by Lebron and a block by Mesalina Severino. This pushed the score to 15-14. To win the fifth set, a team only has to score 15 points and be ahead by two.
The two teams kept going back-and-forth with rallies and scoring. Navarro finally took control, scoring the final points to win 19-17 and win the title, 3-2.
For the match, Yanlis Feliz notched 34 kills and Laura De Pra dished out 61 assists.
The Lady Saint Volleyball team was able to accomplish the best finish in program history as NJCAA National Runner-Up.  For their performances, Djuly Schmorantz, Yanlis Feliz, and Laura De Pra were named All-Tournament Team.
Hang on for a minute...we're trying to find some more stories you might like.
About the Contributors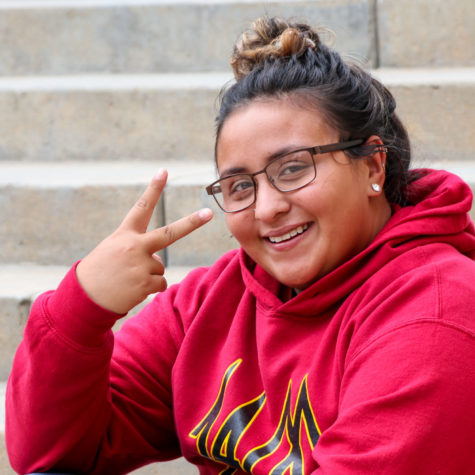 Monica Gonzalez, Social Media Director
Monica Gonzalez is a 19-year-old sophomore who loves to travel and take sports photos. While at Seward, she has realized that the only close friends are...