Who are you and where do you come from?
Who am I? I'm Marcos Alexander Montoya, I'm 18-years-old currently attending Seward County Community College. I was born and raised in Liberal for majority of over 90% of my life. I did a school year in Hays [Kansas] once it was only for a semester and that was sophomore year during COVID, and for my freshman year I spent in Turpin and that was right before COVID had started like freshly right before it had started and then I spent junior and senior year of high school here at LHS and now here I am in at Seward taking courses here.
What's your major and why?
My major is in education. The reason why I chose education is because throughout my life there has been…very few teachers that I can relate to and that can understand me as a person. I want to be one of the teachers that can, you know, relate to my students and actually see them for who they are.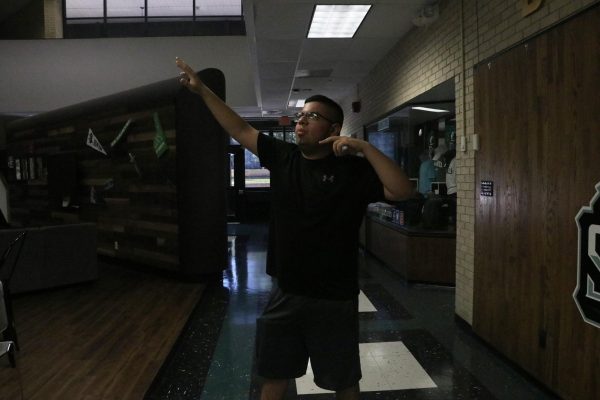 Why did you pick Seward County Community College?
The brutally honest answer is that it's cheap and I just want to get my gen-eds done because I…took like no college courses in high school. That's kind of dumb on my part I know but I'm taking it all [now] I'm just going like a year or two here getting my gen-eds done and then afterwards I want to go to Wichita hopefully with one of my best friends and that's going to be pretty sick if it does happen.
What do you like to do with your free time?
I play video games. My golden boys are "Tetris" and "Valorant." [I] love those games, I can play them for hundreds of hours on end…I consume a lot of TV and it ranges from shows. Like, I love watching actual shows like "It's Always Sunny in Philadelphia" and "The Office" and then I like more degenerate stuff like anime. Like "One Piece", "Naruto" and "Demon Slayer" those are pretty surface-level shows but [I] like those types of shows. 
If there's something that you could talk about for hours without stopping what would it be?
Oh dude, I love "One Piece" bro, like dude that's just so fucking good, bro. The animation style is so unique and the storytelling, it's like it's like no other. It's like no other type of story that I've ever experienced or felt. The way that the characters just synergize with each other so well and actually like their dynamic is like friends/family. It blends so well with like…how I wish my own friend group would be, like how I view them and the morals of the story that they tried to get across of liberty and freedom…and fairness. That's how it matches well with my ideologies and moralities in life.
What is something unique that you wish people knew about you?
Something unique about me: How easily I am to get attached to certain ideas or people. Because if you can … give me a concept that's super fun like "One Piece" you know something that's so well fleshed out like I can just get into it…and I will learn every possible thing that I can about it until like I have perfected my knowledge in it. 
If you could have a superpower what would it be and why?
I would love to just fly and just be like cruising the sky, bro, like that would be so…sick, you know, just like listening to music while just flying. I feel like I would want to listen to classical music or something and obviously I would switch up the genres but that would be pretty cool.
What's a hot take that you have?
A hot take that I have is that clothing should not matter right?  And what I mean by that is, oh, I feel like especially in like the newer generation especially with a younger men I see it's more common they'll be like… sneakerheads and like … the hypebeast generation and I don't think that they should have like a certain clothing or a certain brand identify you or your social status. 
What's a funny story that you would like to share?
So, my friend Michael and I were hanging out – and this was during middle school – so we ran over a Dorito with a gaming chair and then we kept calling it epic. So we just kept dying with laughter.