Thursday is last day to get IDs
Need to check out library books? How about eating lunch at the cafeteria?
Starting next week all of these activities will require students to have an identification card. They must carry it with them at all times to prove they attend Seward County Community College, no matter if they are full-time or a part-time student.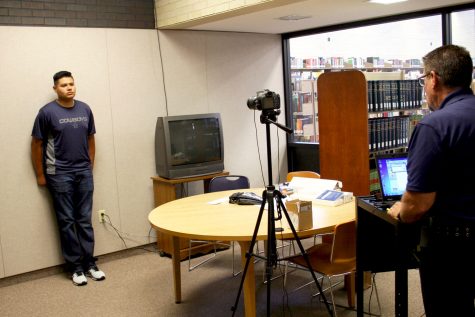 August 25 at 7:00 pm is the last chance to obtain an identification card at the library.
Around 400 students have already stood in line to get their ID last week. They managed to fit this new requirement in between classes. Wait times varied as some students said they spent five minutes and others said almost an hour.
Margarita Lara, a freshman from Liberal, tried two times to get her card. "I waited for five minutes because there was fewer people in front when I first came," she said.
Rosa Montes, freshman from Liberal, waited much longer. "Thirty or 40 minutes," she said. "It depends on when you come in and how far back you are in the line."
The IDs access the cafeteria, wellness center, bookstore, athletic events etc.
For those who have not gotten their IDs, yet, go to the library at these times:
Wednesday, 10 a.m.-2 p.m., Library

Wednesday, 5 p.m.- 6 p.m., library

Thursday , 10 a.m.-2 p.m., Library

Thursday, 5 p.m.-7 p.m., Library

To be Announced, SCCC nursing/Lab students,SCCC and Great Western Dining Employees,Dual and Concurrent students.
Students will need to bring their 800 student number with them to the library.