SLC brings back the fun with dorm events
Within the past year, Covid-19 has limited the amount of activities allowed on campus. Jennifer Malin, director of student housing, hopes to change that this year by re-adding RA sponsored events. The first activity will be Thursday at 9 p.m. in the courtyard.
Malin said, "We are hoping to have two RA sponsored events each month. As of right now we are not limited to our activities but that could change. Each month we have an RA meeting and I ask the RAs what they would like to do. The RAs pretty much come up with the ideas and then I divide them into groups to work each event." 
Last year was difficult on the students and the housing staff due to the rise of Covid-19. 
"In the spring semester we tried to do an event each month, but it just depended on our numbers. I'm hoping that we are on the road back to "normal" and that we can continue with the events. We are just moving forward to make this year better than last year. With that being said, we still want to keep everyone safe and healthy in the dorms and will halt events if covid cases rise," 
Malin has helped plan and run plenty of activities throughout her years at SCCC. Some of her favorite activities from the previous years have been dodgeball in the gym, The Amazing Race, and the 80's Karaoke party, which was held her first year at SCCC. 
"I'm excited for the Karaoke and S'mores night which is Sept. 19. I just enjoy watching kids have fun, especially with Karaoke. There are students who start out really shy and by the end of the night, you'd think they were on 'The Voice'. It's a lot of fun," said Malin. 
Israel Banuelos Jr., a finance major from Booker, Texas, is one of the RAs in charge of the upcoming event. Banuelos is working on a team with Drako Sandoval and Bresson Edelen, who are also RAs. 
"All of the RAs met up and decided what we wanted to do for dorm activities. While brainstorming, Jen actually brought up the idea of a movie night and said people enjoyed it in the past. My group is in charge of setting everything up including the movie itself, the projector, the screen, the snacks, and also putting up posters," said Banuelos. 
The event will be held on Thursday in the courtyard of the Student Living Center. The featured movie is Don't Breathe 2 and will start at 9 p.m. 
"We are planning on having drinks and popcorn for everyone during the movie. Everyone is encouraged to bring blankets and chairs to be as comfortable as possible," said Banuelos. 
Jessica Madrigal, a criminal justice major from Spearman, Texas, is one of the RAs in charge of the upcoming Karaoke event on Sept. 19. Madrigal encourages all residents to go to as many RA sponsored events as possible because it is a great way to meet new people and get involved. 
"My team of RAs has been planning a Karaoke and S'mores night. If you can or can't sing, it doesn't matter, we just want the residents to be out there having a great time. We want residents to meet new people and make new friends. We also plan on providing s'mores and hot dogs for any resident that attends. We are super excited and it should be a great night," said Madrigal. 
About the Contributor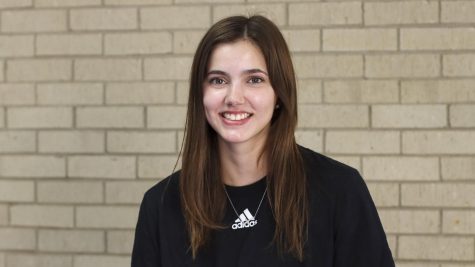 Brooke Katen, Reporter
Brooke Katen transferred to SCCC in January of 2021 and is currently a sophomore. She is 19 years old and from Maryville,...