Melissa Gonzalez
Hugoton – Major: Cosmetology
What made you want to go into Cosmetology? 
I've always had a passion for doing nails and the whole make-up thing in general. I've been a girly girl for a long time so that's what made me choose it. Plus it is fun, well I think it is fun at least.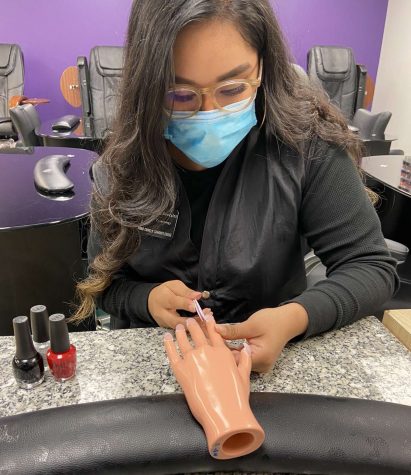 What is your favorite movie scene? Why?
My favorite movie is probably Overboard. The whole movie is consisting of this girl pranking this guy that is in a coma. My favorite part is the ending because he remembered his whole past and still fell in love with her. I'm like oh my gosh so cute.
If you could eat one food for the rest of your life what would it be?
Probably Enchiladas. You can mix and match them with different sauces, cheeses and meats. 
What is a quote you live by?
I guess a Selena Quintanilla quote, "If you have a dream, don't let anyone take it away, and always believe that the impossible is always possible". She is telling you to follow your dreams and that you can be successful if you put your mind to it.
If you could travel anywhere in the world, where would you go? Why? 
Spain. I have seen pictures of how beautiful it is, and I want to see that and plus I love Spaniards' accents. Their accents are everything.
What is your favorite childhood memory?
My sister and I used to do a lot of photoshoots when we were little. One time my sister put in the camera and just started to let it take photos automatically and we just bounced on her bed doing different poses. Every time I see those pictures I laugh because they are my favorite.
If you could pick a different career than Cosmetology what would it be? Why?
Probably business. You can start anything. I would probably make a restaurant. I have worked at restaurants and I don't mind how busy it gets and the people you get to talk to.
What was the first job you ever had?
Waitressing at Acosta's & Nieto's Cafe in Hugoton. It was interesting like it opened my eyes to what waiters and waitresses go through. I thought it was an easy job but it is not. There are a lot of things that go into it. I had fun and I liked the tips. 
Is there someone that inspires you?
My sister. She has been through a lot in her life from being a teen mom and relationship stuff, like tough relationships, friendship, any type of relationship with anybody. She has been through some things and she has made it through and she is healing from it. I see her as such a strong person. 
 What is your favorite song? Why? 
Don't do this to me, this is a hard question. Let me check my playlist real quick. It's a Selena song called " I Could Fall In Love With You" because I'm a hopeless romantic and that song is so cute to me. The first time I heard it was when I was five or six, it was when I first saw her movie.
About the Contributors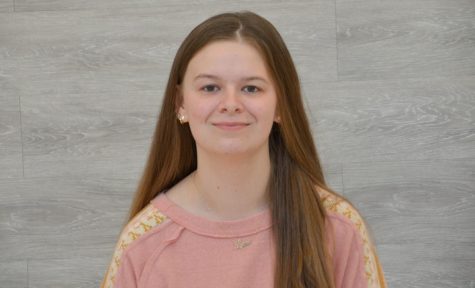 Laura Gillespie, Reporter
Laura "Gracie" Gillespie is a 19-year-old sophomore majoring in biology. She was born and raised in Stevens County in...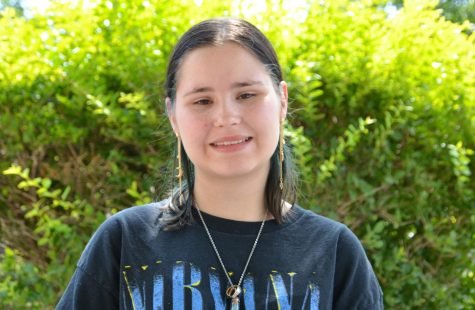 Brianna Rich, Photo Editor
Brianna Rich is a 20-year-old sophomore majoring in journalism. Rich is very excited about starting a new semester and can...