Students feel the heat
Hispanic Heritage Month Kick-Off
With shaking hands and watering eyes, Jose Alvarado took the table to defend his title as the quickest jalapeno eater at the Seward County Community College Annual Jalapeno Eating Contest during Hispanic Heritage Month. While some could handle the heat, others had to get out of the kitchen.
Following Alvarado, David Quiroz took second place and Celia Chavez in third place.
The contest was simple. All the contestants had one minute to finish all the jalapeños on their plate. When finished with their plate, contestants were to stand up. First placed was awarded with $100, second place with $75 and third place with $50.
The nine contestants got ready by sitting in chairs on a line of connected tables while some removed the stems off the jalapeños and others squeezed some of the juice out of the jalapeños.
The scent of pickled jalapeños filled the air. As the rules were being explained, the contestants face's were focused. When motioned to start, it got serious, eyes were sharp and hands were shaking.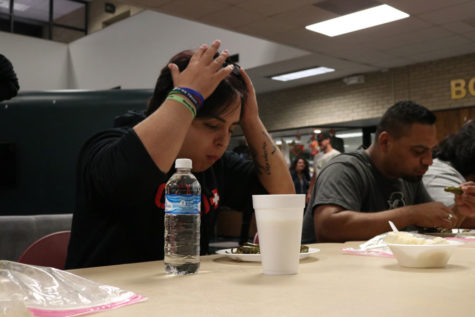 Back to back champion, Alvarado, came in HOT, knowing he was going to win: "Absolutely, I knew I was gonna win coming into this, so it just helped, it just.. sorry I can't even talk right now, I'm burning," Alvarado stated before walking away to grab some milk.
Being the returning champ, Alvarado had some tips for people wanting to eat jalapeños in a heated manner.
"Don't think about it, fight through the pain and you'll become successful," Alvarado stated.
While Alvarado ate each jalapeño in stride, Melvin Augueta, a diesel mechanic major, struggled behind. Two bites, a couple seconds and he was done.
"My first thought after biting into my first jalapeño was 'I'm gonna throw up!'" Augueta argued that had they been "the real ones," he would have done "way better."
The Jalapeño Contest was the Kick-Off Celebration for Hispanic Heritage Month at SCCC. Hispanic Heritage Month celebrates the different hispanic cultures.
More activities will be on campus throughout the month:
Oct. 4: Lunch and Learn "Flour Power:" Presentation about the history of the humble tortilla. Noon at the SCCC library. Lunch served
Oct. 7: Grafito Moville art exhibit and music festival at K-State. Free transportation. Contact Frances Brown for more information: 620-417-1300.
Oct. 11: Movie Night: La Misa Luna sponsored by HALO. 5 – 7 p.m., 214 E/W Student Union.
Oct. 15: Fiesta Fun with chips and salsa, mockaritas, snow cones and danceable music. 7-9 p.m. Student Living Center, open to all students.
Oct. 23: Leadership Encentro at K-State two-day trip sponsored by Halo. Contact club sponsor Frances Brown for more information: 620-417-1300