Students required to take randomized COVID tests
Seward County Community College students are now required to randomly test for the COVID-19 virus in hopes to stop the spread and keep campus safe.
The randomized testing is being performed on 30-40 students, staff, and faculty each week. This is in addition to dorm residents, specialty programs, and student-athletes that were already being tested. This testing is required among all the students on campus but faculty and staff have the option to volunteer or not.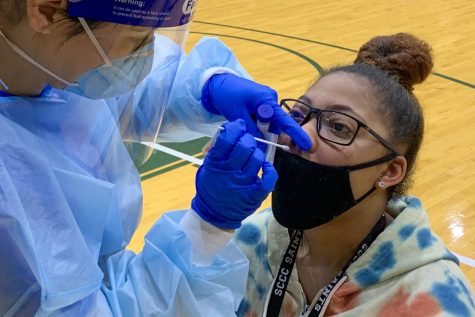 But can randomized testing actually stop the spread? Students who were selected for the randomized testing say they believe it can. 
"It can definitely help, especially since many people who contract the virus are asymptomatic," Britton Romero, a freshman psychology major, says. 
"It can prevent those 20 students who are being tested from spreading it to others, so yes it can help" Stephanie Trevizo,  a freshman pre-med says. 
So far, with three weeks of testing, all have come back negative, though a few are still waiting on results. Around 175 tests have been administered. 
John Ralston, who is in charge of Seward County's testing and partnering with SCCC on this endeavor, really feels that the college is making an impact on the against COVID.
"Let the students know that the EOC, COVID response group and the community as a whole are very proud of the efforts they have made…," he wrote in an email to the SCCC community. "The steps they are taking are working great at your facilities. We are very proud of the efforts all of you are making and stand with you to monitor and identify any risk that may come up."
The way the randomized testing works is that the chosen students get an email 72 hours before they must get tested. This is done to make sure each student is aware and has a way of getting there. If they do not, according to Rachel Coleman, executive director of SCCC public relations, students can be escorted there if needed.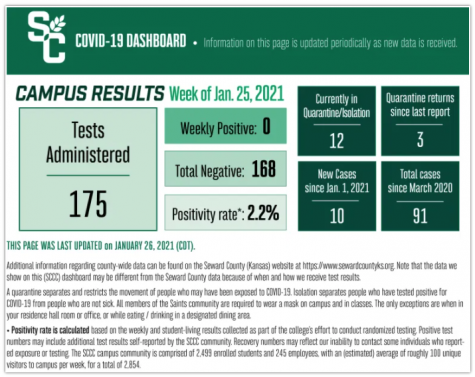 The randomized testings are taking place at the Ag Building on the Seward County fairgrounds in Liberal. In the email sent to students, it gives the date, time, and location for their test. There is no cost since the Seward County Health Department is testing the randomized students for free.
Not all aspects of this are liked by students, however. According to Romero, she dislikes the idea of not requiring students to quarantine after being tested. She claims that it "defeats the purpose" of them not being isolated until their results come back. She also dislikes that students are required to quarantine from classes and campus if they refuse to take the randomized test.
Coleman reassures that randomized testing is done for the betterment of the students.
"Nobody likes to be told you have to do something…but I will say we have the best of our whole Saints family in mind," Coleman says. "It's really just to protect our community, in that sense of community on campus." 
She explains that "we can't control what others do outside of campus, but we can set the boundaries for what we want to do on campus."