Annual SCCC auction benefits student scholarships
This upcoming Saturday 25 at 6:00 p.m. is the annual Seward County Community College foundation auction and all proceeds will benefit the student body from scholarships to enhancing SCCC programs. 
Starting all the way back in 1995 and becoming one of Liberal's biggest social events as the "Party Auction". As time has changed, the components of the auction have stayed the same with a silent auction and a live auction with dinner and entertainment. The goal consistently being to earn money for the SCCC student body.
Sarah E. Thompson, associate director of annual giving and alumni engagement, who helps with planning the auction every year talks about what she is most excited about for this year's auction. 
"
… Really I'm just gonna be excited to see people. We didn't get to have this event last year because of COVID, and I'm excited to see people again
— Sarah Thompson
"The live auction is fun! This year we are doing something a little different, we usually have some people that will sing or do some kind of entertainment but this year we will have Enrique from La Mexicana. He's gonna be our DJ and MC from six to eight. Really I'm just gonna be excited to see people. We didn't get to have this event last year because of COVID, and I'm excited to see people again," Thompson said. 
Bringing all of the pieces together for this auction falls on the hands of the Foundation Auction Committee that consists of campus employees, a few community members, and a trustee. This group is tasked with traveling between local businesses to ask for items for the yearly auction.  
One of the big-ticket items this year is a hunting safari for three in Argentina and is courtesy of the National Wild Turkey federation. There are other big-ticket items like a Blackstone, a Traeger, a 42-gun safe, and a beauty and spa package worth over $500 from Pure Bliss. These are only a few of the overall items being auctioned this Saturday.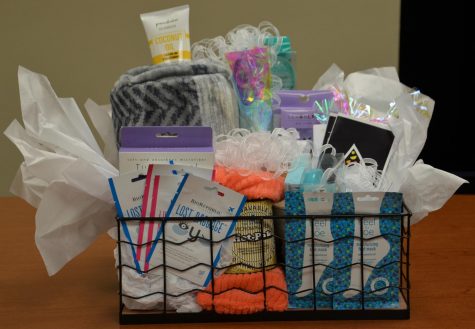 To attend this event tickets are to be purchased beforehand at the price of twenty dollars, sales for these tickets have opened this week. There will be an added fee of five dollars for the dinner catered by El Ranchito at the time of this event if one is interested. 
Childcare is an option for parents attending this event for an additional five dollars and the care will be provided by the Lady Saints Basketball team. Children will enjoy Legos brought by The Baker Arts Center and pizza with the Lady Saints. 
Tickets can be purchased at all of the following locations: Foundation office, Bank of Beaver City, Community Bank, and Equity Bank. Individuals that are selling tickets are Terri Barnes, Joel Figgs, Dan Artamenko, Kenny Hernandez, Celeste Donovan, and Mike Bailey. There is a hopeful turnout of around three hundred people so it is important to buy tickets as soon as possible.