Lady Saints volleyball team ramps into victory over Butler
Victory was in the air Friday night as the Lady Saints took a 3-1 victory over the Butler Community College Grizzlies. The team has secured their first victory in the Jayhawk West conference leaving them with a 1-1 score thus far. Overall, the team looked well practiced and rehearsed.
"We worked on staying in control and knowing our serving spots. We knew what spots we were going to hit so then we practiced that so we could be a little more in system," head coach Thais B. Allen said.
While serving proved to be a strong point in their final set, it was a considerably large weakness in the first and second sets. Between the two, the Lady Saints had 10 critical serving errors.
"We want to be an aggressive serving team and that comes with some errors. Today was too extreme," said Allen. "If our aces outset our errors it's fine but they aren't, so we can't do that."
The clear turning point for the team came when sophomore setter Amanda Pereira scored a pair of tips in the second set that left Butler scrambling to cover. The momentum gained lasted long into the fourth and final set.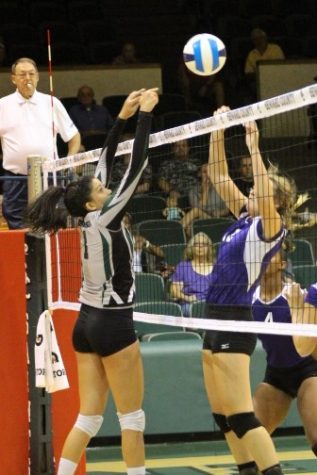 "I've been working on everything because I feel like I want to help my team this year. Each one of us is pushing each other and we have been working out every single day to improve and to help Lady Saints volleyball," said Pereira, who is an international student from Santos, Brazil.
Looking forward, coach Allen expressed her wants to desire to take each practice one step at a time.
Allen said, "We are not the team we want to be right now but as long as we progress everyday in practice we will be where we need to be at the end of the year. That is what is important- that's when our regional tournament is so that is when we need to do our best."
"We are looking to improve a lot in our transitions and in our hitting. We did really well both now and in our last games," said Pereira. "I feel like we are proving it here today that this is the most important aspect to us."
The Lady Saints volleyball team plays Pratt Community College on Monday Sept. 5 in Pratt, Kansas. The next home game hosted at the Greenhouse will be on Wednesday September 14 against Garden City Community College. For more information and to see the box score, please visit www.sewardsaints.com.