Nascimento Named Jayhawk Player of the Week For Second Straight Week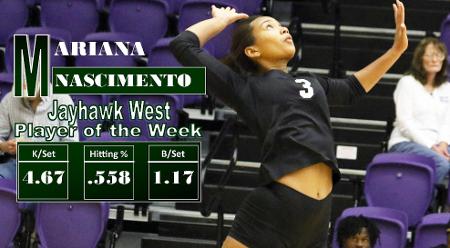 After a relatively slow start to the season, Seward County freshman Mariana Nascimento is beginning to find her groove as shown on Wednesday when the Jayhawk Conference announced that for the second straight week, the Lady Saints rookie was named the conference's Player of the Week.
Nascimento continued to get it done in the middle for the Lady Saints this week, finishing a pair of Seward wins averaging 4.67 kills and 1.17 blocks per set while hitting .558 in the process. Monday against Dodge City, Nascimento banged home 13 kills on 20 swings, good for a .600 hitting percentage, while also picking up four blocks in a 3-0 Seward sweep. Wednesday at home in the Greenhouse, she was at it again, with 15 kills and three blocks in another Lady Saints sweep over Cloud County.
Nascimento and the Lady Saints will try to keep up their recent hot streak on Wednesday night as they host the Barton Cougars in a key Jayhawk West Conference match at 6:30 in the Greenhouse.