Lady Saints basketball off to good start
The Lady Saints basketball season started off tonight at the Greenhouse. They faced Otero Rattlers and ended with a score of 72-45. They are off to a good start for the beginning of the season.
Coach Toby Wynn said, "I thought defensively. I really felt like we did some good things so we took some stuff away from there. Offensively we had a good balance, scoring and we shared the ball pretty well, so that was positive to see."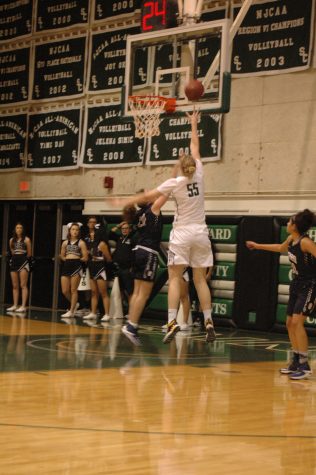 The game started off with the Saints scoring the first point. The Rattlers were the first to call a timeout. The score at the beginning was 11-3 with the Saints taking the lead. They started off playing aggressively and putting in all of their effort. Although both teams kept having turnovers during the first quarter, the Lady Saints still took the lead 21-9. The Rattlers missed their opportunity with a free throw and the quarter ended with a score of 23-9.
As the second quarter began the Saints had the ball. Both coaches seemed intense from the sidelines, despite the Saints leading the game, 30-13. The Rattlers kept fighting throughout the game, but the second quarter ended with a score of 42-18.
The Lady Saints prepared hard for tonight's game. "It's been a long process, we started in August and our preparation to get all of our players to play together and learn how to play together," Wynn said. "It's been long days of practice and scrimmages." 
After halftime, both teams came back from the locker rooms ready to finish off the last two quarters.
The Rattlers started off the third quarter by scoring and their team kept motivating them from the sidelines. Seward called a timeout as the Rattlers scored twice in a row. As the game went on and the Saints kept scoring, the crowd began to cheer them on to even more. Both teams fought for the ball and the quarter ended with Seward still leading 52-30.
"We love the crowd and anytime we have to play at home it's a big going for us," said Wynn.
The game was coming to an end and by the fourth quarter the score was 59-33. The Rattlers seemed to be under a lot of pressure. They called a timeout to talk on the sidelines. The break in game didn't phase Seward. The Lady Saints were out on the court before time was up and ready to finish off the game with a 72-45 score.
After the game, Wynn talked about the toughest challenge for the team heading into the season.  
"It's a long season with a lot of conference games this year is probably the biggest challenge," he said. "Twenty-six conference games is something that we have never done in the history of this conference. So just to have our players be able to be prepared mentally and physically for that type of season is going to be difficult."