McSpadden steps down as AD at trustee meeting
After more than 30 years at the helm of the Seward County Community College Athletic Department, Galen McSpadden will step down as athletic director Dec. 18. The SCCC Board of Trustees accepted McSpadden's resignation as part of the regular personnel report at its monthly meeting Nov. 7.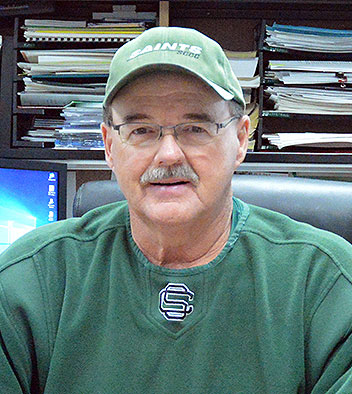 McSpadden will remain as the head baseball coach and fill in as interim-Athletic Director until the position is filled. In the mid-1980s, the baseball coach stepped in as athletic director "to fill a gap" and has been serving the Saints sports programs ever since.
The other main issues discussed throughout the trustee meeting included new projects and creating a financial plan. For all of the projects to start, the college must stick to the budgeting plans that they already have. The board decided that this budgeting plan would be discussed again at a later time.
The college has also added three new staff members in different departments and there are still a number of applicants for open positions. Safety and security was also discussed throughout the meeting as campus groups are planning to improve safety for all students and staff. The Safety Movers Group is looking to add security doors for the dorms since residents spend most of their time on campus and in and out the dorm rooms.
In regards to technology, trustees talked about getting superdroid robots for the agriculture programs that the college offers. The approval was made for these spendings.
The Board also had a few comments on improving Wi-Fi speeds around campus and in the dorms.
Celeste M. Donovan, Vice President of Student Services, motioned that the financial aid and registration offices be redone due to there not being enough space for family members that come in.
Other matters discussed:
– New washers and dryers for the dorms
– Early retirement requests
– Grant development processes
– Improving the process of development courses
– Bathroom maintenance and improvements
– Recruiting tools