Lady Saints remain undefeated after close victory over Coffeyville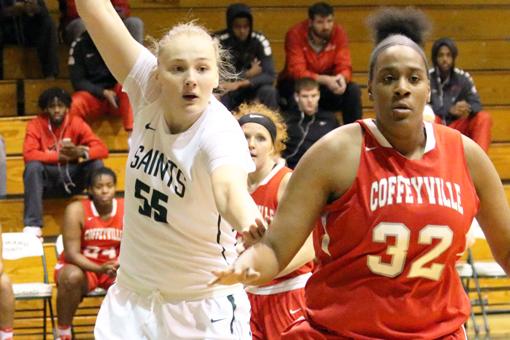 After a tense game against the Coffeyville Ravens, the Lady Saints basketball team edged out a 74-71 victory. The team holds onto their undefeated title and are now 7-0 in the Jawyhawk conference.
The game began with both teams trading points right from the start. Sophomore Joanna Grymek from Krakow, Poland and sophomore Clitan de Sousa from Maputo, Mozambique worked the floor with great offensive passes to put the Lady Saints up 23-21 after the first quarter.
It was more of the same as the second quarter began with Erin Richardson burying a triple and Mollie Mounsey connecting on a short jumper to put Seward back ahead. Coffeyville answered with a strong defense to help tie the game back up at 32. Grymek scored back to back possessions in the paint, but Coffeyville continued to answer and eventually took a two-point lead before Manuela Fungate, sophomore from Maputo, Mozambique, tied the score at 43-43 to finish out the first half.
The Lady Saints started the second half out with two strong plays to take a four-point lead but Coffeyville stayed on their tail up until the 58-point mark. After several strong interceptions, the Lady Saints took their biggest lead of the game at 67-58 but the Ravens didn't lose focus.
As the buzzer ticked down on the final quarter, the game was again tied at 71-71 with seven seconds left. The ball was passed to Mounsey, the top free throw shooter for the Lady Saints, who shot perfectly in their time of need to put Seward up by three. Followed by a good defense, the game finished to a roaring home crowd and a score of 74-71.
Seward stays unbeaten at 9-0 overall on the year and polishes their Jayhawk Conference mark up to 7-0 to remain in front of the rest of the league. Coffeyville falls to 5-5 overall and 4-3 in league play with the road loss.
The Lady Saints Women's Basketball team's next home game will take place Saturday Dec. 10 against Neosho County Community College at 6:00 p.m.