Student art exhibit showcases artwork, photography from semester
Now that it is the end of the year, art and photography students show off the work that they have done this semester by entering the art exhibit. The exhibit is hosted by the art department for the purpose of showcasing student work. Art and photography students are allowed to choose three or more of their pieces from the current semester. The winner of this exhibit receives a People's Choice Award plaque.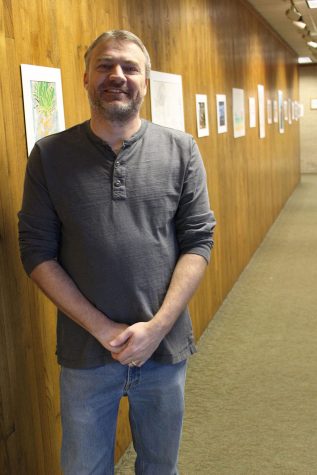 Art instructor Dustin Farmer has been drawing since he was five years old.
"I'm one of those guys that likes every aspect of it I like every art form," Farmer said. "But, my real passion is in metals. Making jewelry, glasses, etc. I really like [Auguste] Rodin, the detail of his work is amazing and he never leaves out any detail. Every one of his pieces are the same but different. My favorite art piece from him is Hand Of God."
Photography student Vangie Padilla states that she is excited to see other's work since this will be her first year being involved in it.
Padilla said, "I submitted two photographs. The first one is a bible with a flower on it and the other one is of my little brother and our family dog we have at home."
Visual Arts major Rosa Strydom, came all the way from South Africa to further her career in art.
"My dad has worked here for fourteen years. It's cheaper to just go to school here, that's what brought my brother and I here," says Strydom. Strydom also explains that she likes to see others techniques in the art work so she can learn from it and improve her work as well.