Christmas for Kids, community's help give back
This year the Student Nurses Association (SNA) has partnered with Breanna Francis in the Christmas for Kids service project.
Dawn Hemphill, nursing instructor and SNA faculty advisor, think it's a really good fit for the SNA because staying in the hospital during the holidays is something she can relate too.
"I thought it would be a really good fit for our Student Nurse Association. Also, I had a personal interest in it. When I was twelve, I had a ruptured appendix and it was right during the holiday season. I can remember what that felt like to have to spend my Christmas holidays in the hospital," said Hemphill.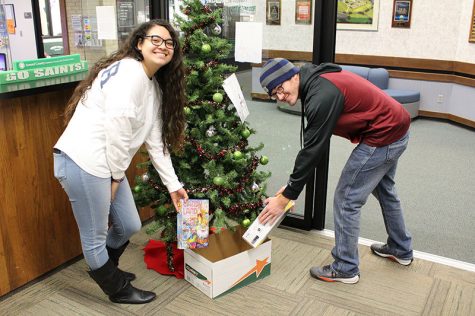 She believes that brightening the holidays for kids that cannot go home would make a positive impact on those around her. The SNA will be helping Francis by spreading the word and collecting and wrapping gifts.
"We sent out emails to all faculty and staff so they'll know about the project and what items to distribute to the students. The students got the word out to their friends and family and posted on Facebook to try to get interest in people donating items for the project," said Hemphill.
The students will help Francis to collect and wrap gifts.
"It's not a whole lot of fun being stuck in the hospital on the holidays, so we're supporting Breanna," said nursing student Cassie Stein.
Breanna was diagnosed with cancer when she was eight years old and had to spend many holidays in the hospital. She had received many generous gifts in the hospital and as a result she decided to give back. Last year she donated to Ronald McDonald House and two other hospitals in Amarillo. This year she hopes to donate to the hospitals in Liberal and Guymon as well.
Donating gifts for the children would be greatly appreciated. Collection boxes have been put in the Student Union, in the first floor of Epworth and in the dorm lobby. Donated items should be new since they will be going to children who are immunocompromised. Some suggested gifts are clothes, toys, puzzles and blankets.