Ice storm hits Liberal
Winter storm Jupiter hit southwest Kansas over the weekend. It covered the area in a heavy layer of ice, followed by snow. In its wake, it left downed trees and many were without power in Liberal and surrounding communities.
The storm brought damage not only to homes and cars, but also to other valuables in Liberal. Many windows were broken as well as windshields by branches falling off of trees. A Seward County Community College student mentioned that her daughter's trampoline was destroyed and she was pretty upset about it.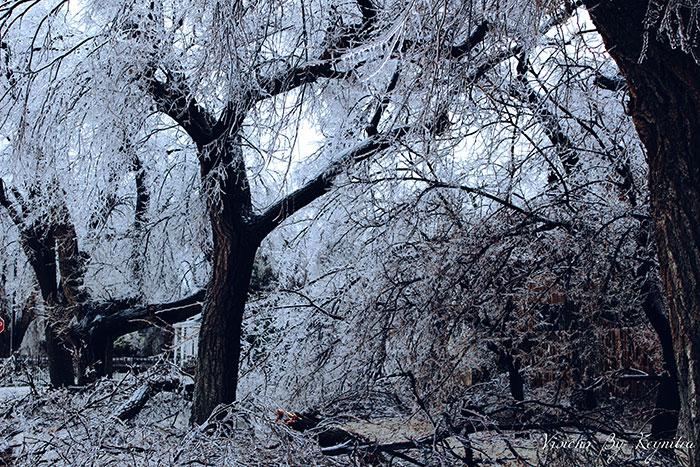 Many schools in the area were canceled on Monday. SCCC already had the day off to celebrate Martin Luther King, Jr. Day. With a three day weekend, there was really no need to leave home. Freshman Kevin Loya decided to stay in for the storm. Loya's family prepared by buying a heater to stay warm and not struggle with blankets. As many students did not quite prepare, they kept warm with blankets. Loya's electricity did go out all of Sunday.
"It was kind of hard, because electricity is something we need. During storms I stay in and watch Netflix, but I couldn't, so instead my family played board games," Loya said.
Forecasts gave plenty of warning for the storm, predicting that more than an inch of ice would cling to the area. Most flocked to stores to stock up on Friday.
Luis Silva, a sophomore from Liberal, prepared for the storm by filling up his car's gas tank.
"I've heard that having a full tank is always a good idea, and it was the first thing I did because I knew I was going to have to work," Silva mentioned.
Being prepared didn't help Silva's family when it came to damage. Trees outside their home were covered in ice and weighted down so much that one broke apart. The branch fell into his bedroom window, breaking the glass.
Liberal freshmen Vangie Padilla and Sandra Armendariz prepared well for the storm. Padilla charged all batteries, "I need my Netflix," was one of her reasons. Armendariz added that her family bought several gallons of water and food. Padilla lost electricity as many other students did. Campus also had no electricity for several hours.