Crusader News staff win 18 awards
Crusader, SCCC student media, received 18 awards in the Kansas Collegiate Media Contest on April 9-10 in Wichita.
The CrusaderNews.com received a Bronze award in Online Publications overall, in this category the staff competed against four-year universities. The monthly Crusader newspaper won a Bronze award for Two-Year Newspaper Division and First Place in Special Publication.
Co- Editor Brynn Grieshaber was extremely proud of the news team. She couldn't hold her excitement in when finding out about the awards that Crusader had won, "I helped lead my team to a total of 18 awards and it was a great accomplishment."
Crusader received several individual awards for everything from writing to photography to layouts.
Aubrey Holt, Brynn Grieshaber and Keynitra Houston received Honorable Mention for Video Storytelling. David Gomez received Honorable Mention for Sports News Writing. Yessenia Montanez received Honorable Mention for Sports Feature.
Grieshaber also received two more Honorable Mentions for Illustrations and Column Writing and Second Place for Sports Photography. Houston also received Honorable Mention for Page Design and Second Place for Featured Photography.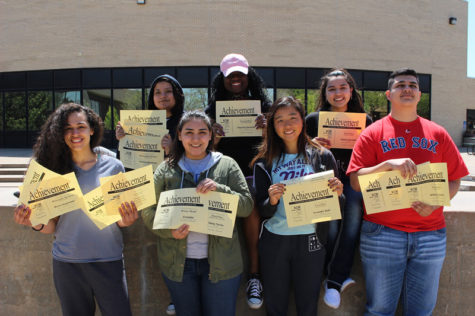 Former Crusader staff also received awards. Arthur Courbis received First Place for Features. Andrea Baca received both First and Second Place for Infographics. Valeria Corrales received Third Place for Sports News Writing. Daisy Torres received Third Place for Headline Writing and Design and Honorable Mention for New Photography. Kathleen Alonso received Honorable Mention for Newswriting.
At the conference the staff attended sessions to learn more on how to be journalists. The sessions consisted on tips and tricks on how to report, on photography and even on how to get a job after graduating.
David Gomez attended a session where the speaker, a reporter from the Wichita Eagle, reviewed the restaurant the Crusader staff ate at. "The best session I attended was 'Writing Reviews'. The speaker went to Bubba's 33 just like us and explained the [bad] review she gave very thoroughly."
Gomez mentioned that he wished he would have saw the review first before eating there with Crusader staff, because then they could have picked a better place. Freshman Jessica Aldave-Ramos said that although her hamburger was okay she wished it would have stayed in one piece, "After my first bite, the burger fell apart."
Crusader's advisor, Sue Sprenkle, was a speaker for one of the sessions, 21st Century Journalism.
The keynote speaker for the conference was Abigail Beckman. Beckman, who has only been out of college five years, worked as a news editor in Dodge City. She now works for Wichita's NPR station as a reporter. Beckman's biggest advice to all the student journalist was to "just start" because once they did everything after that would all come together.