Lady Saints rock Tuscon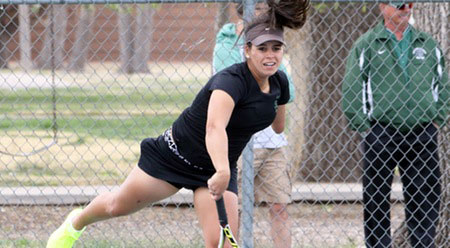 Sunday afternoon in Tucson, Arizona the Lady Saints rocked the first round of the NJCAA National Tournament.
Thalita Rodrigues beat Ashley Coots from Central Alabama. She will take on Barton's Nues Torregrosa on Monday morning.
Sarah Manseri won against Marta Garcia of Lewis & Clark. Manseri go against Margaret Blackwell of Central Alabama on Monday.
Lisa Suzuki and Thalita Rodrigues won their double against Singleton/Stickle of Jacksonville. Their second round they will battle Hussain/McCarthy of DuPage Monday afternoon.
The other six Seward competitors will get underway Monday after receiving first round byes as seeded players in their respective brackets.
Seward is sitting 15th but will move up in the next couple of days receiving points for their byes if they win their second round contests.