Lady Saints gain tough victory over Barton
Seward County adds another win to their record after a tough battle against Barton Community College on Wednesday, Oct. 18, at the Greenhouse.  Although the Lady Saints came out with a win, Barton still managed to give a great fight and force the match to go to four sets.
In set one, the Lady Saints started off very unusual. They made uncommon errors that led Barton to gain points. Luz Sierra, Mariana Nascimento, and Viviane Viana each had two kills during the set. Seward County brawled enough to come out on top winning the set with a score of 25-12.
"It was more of our errors that we usually don't make. We just came out with a game plan and made some adjustments to come out with a win for the first set," SCCC Coach Thais Allen said.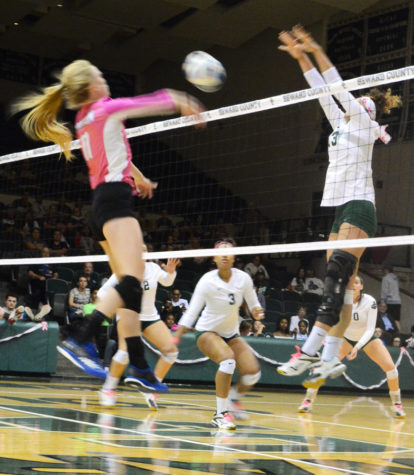 As for the second set, it had to be one of the most intense sets of the season for the Lady Saints. Barton did not seem intimidated throughout the set, which led them to gain points from Seward's abnormal errors. For some odd reason, the Lady Saints definitely did not look like what they usually do.
Multiple errors were made from the team such as: miscommunication of who's doing what and not setting correctly. Although Seward put up a good fight, they still fell short with a final score of 20-25.
"We missed a lot of serves, which is something we can't do. Also, we made no runs which hurt us a lot and Barton made a couple of runs. We had to come back and we did, but it was hard due to us not running our offense, which led Barton with the win for the second set," Coach Allen said.
For the third set, the Lady Saints seemed to finally wake up and take control. Crazy amounts of spikes coming from multiple Lady Saints led a momentum for them to destroy Barton. 
Barton started to look less confident after they had beat Seward in the second set. Barton started to make errors, which caused them to lose the lead they first had in the beginning. The final score was 25-17.
In the fourth and final set, Seward decided it was time to wrap up the match and came out strong from the beginning. From the help of the rowdy crowd, the Lady Saints started to gain more confidence and gave the fans what they love to watch.
The Lady Saints delivered thundering spikes to poor Barton. Unfortunately for Barton, they were unable to respond, which led to them losing, 25-10.
"Barton has been playing better. They played better this season against us than they did last season. They have some players from last season that didn't play very well and they came out this season and performed way better, which made a difference for them on tonight's game," Coach Allen said.
In the final, there was three Lady Saints that had finished with double digit kills: Viana (10), Nascimento (11), and Giovanna Tapigliani (12). Giovanna Kuntze kept the match consistent by having 38 assists. Overall, the Lady Saints had a .336 hitting percentage, 8.0 blocks, 56 digs and 10 aces.
On Saturday, Oct. 18, The Lady Saints will travel to El Dorado to compete against Butler Community College.