Saints start off the season right by defeating Clarendon
As the SCCC Saints basketball team struggled last year, this year's team managed to set the tone for the beginning of the season. The Saints went up against the Clarendon Bulldogs on Wednesday night, Nov.1.
In the first half, the Saints trailed Clarendon in the beginning, but they kept the score fairly close. For the Saints, their amazing hustle played a huge factor throughout the game. Both teams were incredible in the three-point lane. Clarendon would make a couple of three's, but the Saints were able to respond.
Multiple Clarendon players were on fire on three-point lane, which didn't give the Saints any confidence whatsoever.  Although Clarendon had a 16 point lead in the first half, the Saints were able to fight back and minimize it to single digits before the half ended. The first half ended with a score of 41-45, with Clarendon leading.
Since the beginning of the second half, the Saints seemed to find their rhythm and took the lead. The second half was the crowd's favorite due to it being very hype. Fans were yelling at the opposing team, trying to ruin their concentration. Eventually, the Saints fed off of the fans hype and took advantage to start their own lead.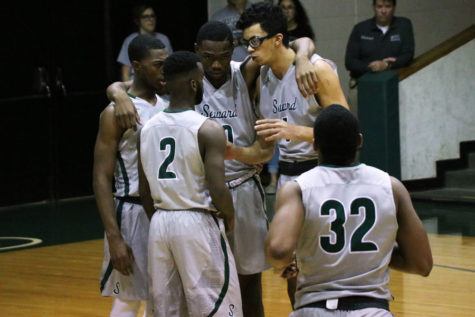 Unfortunately for Clarendon, they began to make errors and couldn't make anymore shots to catch up. The final score of the game was 97-80.
The Saints ended a great game with a field goal percentage of 57.1, 60.9 percent on the three-point lane and 73.0 percent on free throws. Overall as a team, they received 37 rebounds and 15 assists. The leading scorer of the night was Ke'Sean Davis, he had 17 points and 8 rebounds, barely missing a double-double.
The Saints will compete again on Saturday, Nov. 4, against Northern Oklahoma College- Enid at the Greenhouse at 4 p.m.