Lady Saints get revenge on Barton
As soon as first quarter began, the Lady Saints didn't hesitate to take the lead. The Lady Saints kept running the floor flawlessly and their defense was unstoppable. It seemed as if they have been preparing to seek revenge on Barton and they managed to make their statement early.
The Seward County Lady Saints went up against Barton Community College on Saturday, Jan. 27, in the Greenhouse. So far, the Lady Saints are on a hot streak, with a 12-game winning streak and 11-0 in the Greenhouse.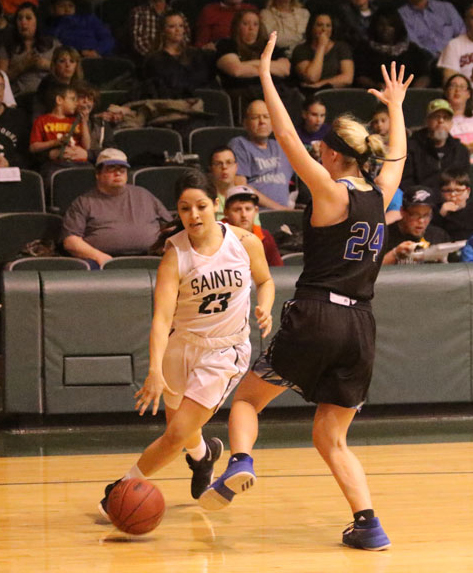 "Defensively, we put a lot into it the last couple of practices. That was very important for us to do in the first half. Giving up 89 points the first time we played them was the most we given up all season. To play sharp defense and to work together to make it difficult for Barton, our girls did a really great job of doing that," SCCC Women's Basketball Head Coach, Toby Wynn, said.
In the first half, the Lady Saints wasted no time to take an early lead. They scored double-digits within minutes and left Barton with zero points on the scoreboard. That wasn't until multiple Barton timeouts lead them to finally score. 
The Cougars managed to score only five points, while  the Lady Saints continued to increase their lead. The Lady Saints finished the first half with an impressive score of 51-15.
"We kept reminding our players throughout the week that we let Barton scored 89 points the last time we played them and to make sure that didn't happen again. We put our energy and focus into our defense. As long as we keep working hard and stay connected, we will make it difficult for other teams," Head Coach Wynn said.
In the second half, it wasn't as hyped as the first, but the Lady Saints still kept the ball rolling. The Cougars  were only able to add 10 points on the board, but the Lady Saints increased their lead to 36 points. Once the fourth quarter arrived, Seward County starters were pulled, but Barton still couldn't match up.
"We did a really great job of sharing the basketball tonight. They did really great at stopping Mollie from shooting and making it difficult for her, but it still made opportunities for others to shoot. Whenever you can spread the floor like that it puts a lot of pressure on the defense and makes it difficult on them," Head Coach Wynn said.
The Lady Saints connected on 46.3 percent of their shots, leaving Barton with only 23.7 percent from the floor. Seward forced Barton to a total of 24 turnovers. The player of the night for the Lady Saints was Sophomore, Vanessa Caro. Caro finished a total of 13 points, three rebounds, and two assists.
"We hope to carry this momentum as we travel to Pratt. We want to make sure we don't stop preparing for anybody. We're going to do a good job watching film and prepare a plan. We hope to stay focused and be ready," Head Coach Wynn said.
The Seward County Lady Saints will be on the road on Wednesday, Jan. 31, to compete against Pratt Community College at 6 p.m.