Novio Boy Steals Hearts
As the stage lights dimmed, signaling the end of the scene, the giggles coming from the audience never stopped in the Seward County Community College's Showcase Theater. Novio Boy's debut over the weekend had me texting all of my friends as soon as I left.
"Guys, it was so cute and so funny," I texted, encouraging everyone to catch the next two showings on Saturday and Sunday.
The bilingual romantic comedy showcased a young boy named Rudy, played by Osvaldo Morales, who was going to go on his very first date with an older girl, Isabella, played by Joanna Vazquez. The two were going out for steaks at a fancy restaurant, but Rudy's friend Alex, played by Fernando Nunez, kept telling reminding him, "this isn't a date Alex, you're just going to be at a restaurant at the same time as a girl, but it's not a date."
Rudy, however, believed it was and continued to turn to his friends and family for advice on how to make his date perfect…..and also because he may have needed to borrow some money to pay for the $20 steaks they would be eating.
Rudy went to his mother, Maria played by Jennifer Malin, for some extra cash and pointers on the date, His mother gave him his birthday money early and went off to work at her salon for the day.
That's why it was so funny … it was true. It was like everyone in the audience related. The comedic timing was perfect. There was even some improv when a character dropped something and made it part of the scene. It came off as one of the funniest parts of that scene.
The hair scene was the funniest one. Maria works as a hairstylist. While doing one of the girls' hair, she figures out it was THE girl her son was going out on a date. The girl kept going on and on about how her date's mother was really strict. Maria kept working and pretending not to be that mother. Maria was so over-the-top dramatic about the whole thing that the audience died laughing.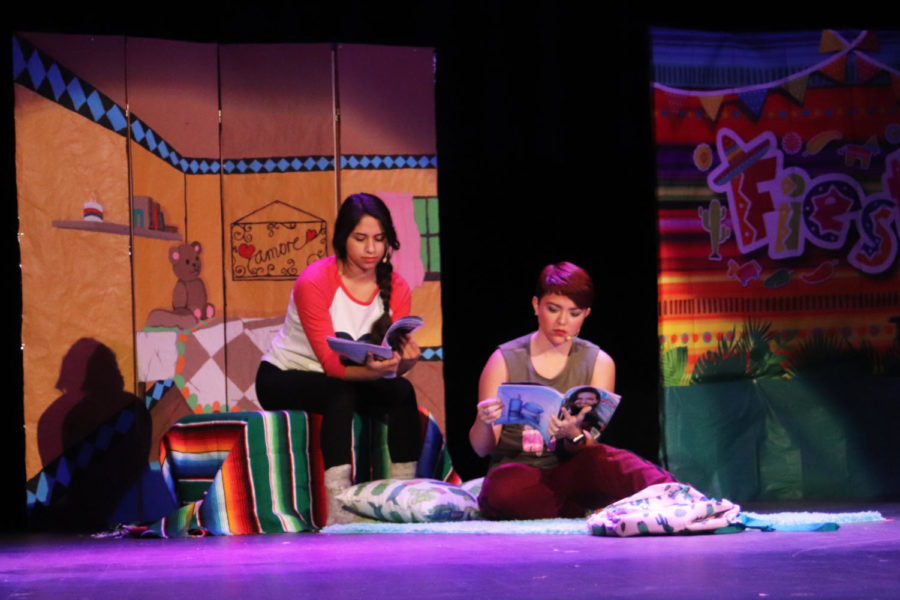 After Isabella left, Maria talked to another girl, Marina, played by Gissella Garcia, about Rudy and the date. They talked about Rudy's future and marriage and his mother, in a panic shouted, "Adios mijo!" The whole audience burst into even more laughter.
Meanwhile, "novio boy" or Rudy, was still planning his perfect night. His uncle, Nicolás intruded and tried to help Rudy with the date, but had to return back to work at his restaurant.
Finally, it was date time. Rudy and Isabella walked into the fancy restaurant and started to order their drinks. But, the fancy restaurant just so happened to be his uncle's restaurant and at the table next to them, Nicolas sat waiting to give Rudy help.
As the waitress asked their drink orders, Isabella ordered water. When Rudy began to say his order, all you could hear was his uncle sneakily 'coughing' the word, "same."
"I guess I'll have the same," Rudy said.
This back-and-forth between Rudy and his uncle went on again to the audiences delight.
The play continued with the two trying to carry on their first date with the unwanted help of Rudy's family and friends, along with Isabella's best friend. It was non stop comedy from start to finish.
On the Crusader ranking scale, Novio Boy receives a five out of five stars. The play was very relatable to a person of any background because everyone experiences the nervousness, the excitement, and the involvement of family and friends on a first date. 
SCCC theatre instructor, Michele Van Hessen, the cast members and the production staff of the play did a great job performing the play written by Gary Soto. The theatre continued to be full of laughter and cheer even after the performance was over.