SCCC students spread love to senior citizens on Valentine's Day
Valentines Day can be a day where we can show love and appreciation for significant others, friends or even family. On Feb. 14 students of Seward County Community College delivered Valentines cards to local nursing homes. The cards were handmade by students.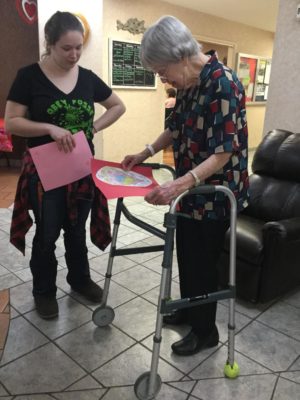 Students began making the cards at the beginning of February in the library. Anybody was welcome to make cards for the senior citizens, even the Director of Library, Lindsey Tuman's 15-month-old daughter made a card, Library technician Deanna Martin noted.
Martin began this tradition last year. She said the response went so well with student participation and how the residents of the nursing homes reacted, that the library brought it up back again.
"My favorite part about this has to be seeing the residents smile and be happy. When we did this last year, some of the girls left crying because it meant so much to them," Martin said.
Martin said she will continue this project to make a positive impact among the senior citizens. The residents faces lit up with joy when they received the cards.
"The residents love the students and bringing them happiness and a smile on their faces was the purpose for this event," Martin said.
In total, 150 cards were made for the senior citizens and nine students—seven volleyball team members—made the trip to three nursing homes: Good Samaritan Society, Brookdale Senior Living and Wheatridge Park Care Center.
"Just having a conversation with them and making their day would have to be my favorite thing about coming," Kenzie Dewell, Fowler sophomore, said. "I think it's important we come and do this for them, especially because they see the same people day in and day out."