Bleeding Kansas premieres Oct. 28
Are you looking for a little action, romance and comedy this fall? The SCCC Drama department will be presenting the play Bleeding Kansas on Oct. 28 and 29 in the Humanities building theater.
"The play is called Bleeding Kansas and its by an amazing playwright named Katherine Willot. Its set in 1855 in Kansas, more in the eastern part of the state around Lawrence in a town called Lecompton. It is set in a year and a time that was not only pivotal for Kansas, but for the nation as a whole," said Play Director and Theater Instructor Gloria Goodwin.
In the early days of statehood, Kansas became a key player in the fight to abolish slavery. As states were being voted into the union, they were either for or against slavery and these decisions ended up deciding borders for the Civil war.
Goodwin said, "The basis of this script is that Kansas is trying to vote on weather to come into the union as a free state or a slave state. And there is a lot of politics surrounding that. Some of it is violent. Some of it is passionate."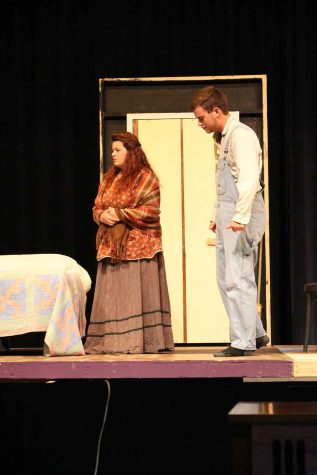 The cast of this production is a bit out of the ordinary for an academic theater production seeing that it consists of only five people.
"I find myself doing more work at home in order to learn all of my lines. My character has some long monologues that take a lot more practice," said sophomore actor Bryce Brockmann.
"What the playwright does is take five rather ordinary people put them in the middle it all. They all have opposing viewpoints. We have an abolitionist who has come in from Boston who is working to try to get the vote to go against slavery, we have the Missouri ruffians who come in to try to use any means at their disposal to get the pro-slavery vote, then you have the people trying to farm the land caught in the middle who are just trying to make a life for their families."
Because of the diverse history involved in the play's setting, other branches of the humanities are using Bleeding Kansas as a way to teach outside of the box.  Both American Literature I and American History I students will be required to watch the production and complete an assignment based on it's context.
"A big center point of this show is novel Uncle Tom's Cabin. An abolitionist who moved into Kansas had two books with them at all times- the Bible and Uncle Tom's Cabin. They used both to make their argument for slavery being an immoral wrong. Mrs. Northern heard about this part of the play and since they are doing a whole unit on Uncle Tom's Cabin, which works along with the point of the play. Also Gary Damron has been talking about how this meets up with his American History I class. As always, we are calling on the members of the art department to help with the set and with the props. We love any time that we can make drama productions cross divisions and cross campus," Goodwin said.
Tickets for the show can be purchased in the Humanities building from Terri Barnes.
"The play is two nights only on October 28 and 29 which is a Friday and a Saturday at 7:30 pm both nights. Tickets are $8 for adults and $6 for 65-plus and 12 and under," Goodwin said.
Barnes said, "All students can get a free ticket just for showing their current student ID. We just ask that it is one for the current year."