SCCC sweeps another conference opponent
After upsetting Cloud County Community College on Oct. 11, the Lady Saints still keep their undefeated conference record alive. On Saturday, Oct. 14, the ranked 5 Lady Saints once again swept another conference opponent at the Greenhouse. Seward went up against Pratt Community College, destroying them in only three remarkable sets.  
Throughout set one, the Lady Saints did not show mercy to the unlucky Pratt Beavers. Although the Beavers tried to keep the set close in the beginning, Seward quickly took the set and began to separate from Pratt. Multiple runs, coming from Seward, gave them the right amount of momentum to come out with a victory. Briana Bradford ended the set with a thundering kill and with an incredible score of 25-6, SCC took victory.
In the second set, Seward started out with an early lead but struggled to maintain it. Giovanna Tapigliani had a couple of striking kills, which gave the Lady Saints enough confidence to overcome Pratt. Tapigliani's kills were so powerful that it had fans roaring throughout the rest of the set. Even though Seward and Pratt traded points throughout the second set, Seward still managed to defeat PCC, 25-12.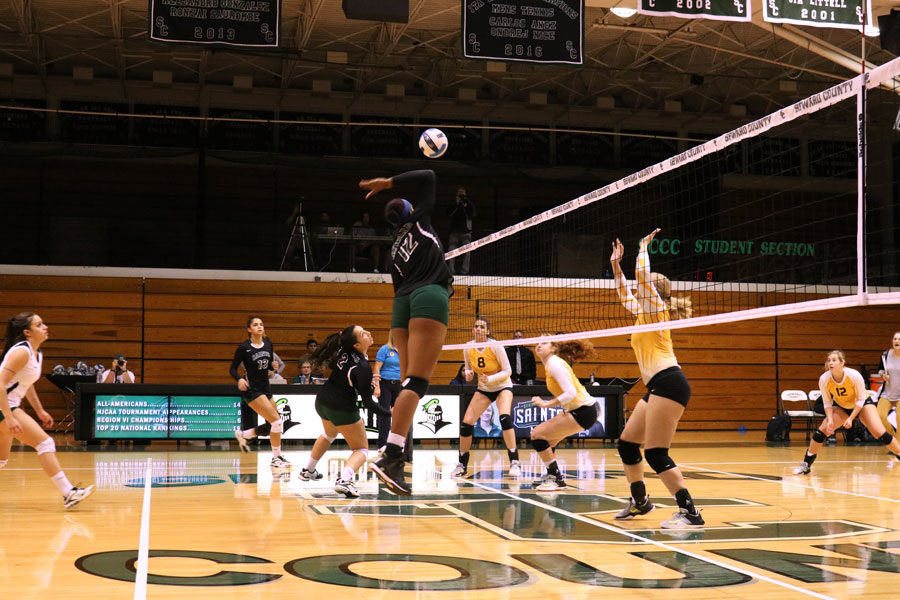 Within the final set, the Lady Saints had no trouble taking the lead in the beginning. The lead stayed at seven for most of the set  until Esmadar Tavares struck a deadly kill and began a 4-0 run. This gave Seward a 10 point advantage with a score of 23-13. The third and final set ended with an upsetting Beaver attacking error, giving the Lady Saints the win, 25-14.
After a stunning win against Pratt, Seward finished with a .391 hitting percentage, zero blocks for the first time this season, 51 digs, and 3 aces. Unluckily for Pratt, they finished with a -.014 hitting percentage, 3.0 blocks, 32 digs and zero aces.  
The Lady Saints will compete at 6:30p.m. on Wednesday, Oct. 18, against Barton Community College in the Greenhouse.