¡Sí se puede!
Guest speaker challenges students
Hang on for a minute...we're trying to find some more stories you might like.
Jimmy Cabrera's personal motto is "sí se puede," which in Spanish means "yes, we can." The guest speaker told the audience at Seward County Community College that with the right set of mind and focus, anyone can be a leader, "but it all depends on YOU."
Cabrera spent the week speaking to area schools and concluded his time motivating SCCC students on Nov. 28. The event was put together by advising coordinator Patsy Fischer and sponsored by the United States Hispanic Leadership Institute (USHLI) and SCCC.
Coming all the way to us from Houston, Texas, Cabrera shared the motivational story of his childhood as a Hispanic child in a segregated community and a member of a lower class family. He told of how despite all odds, he managed to fulfill his dreams. He used his experiences of discrimination and his parents' advice to get on a path that led him to success.
Cabrera captured his audience with his humor and words of wisdom, challenging them the entire time to be a leader. Sophomore Sammir Martinez really enjoyed the message.
"I thought it very entertaining, and I especially liked that the speaker made jokes to keep us attentive," said Sammir.
Cabrera encouraged his audience to take on leadership roles, and emphasized the importance of staying connected to our roots and never being ashamed of them. He's a firm believer that attitude makes all the difference, and maintaining a positive attitude can take us far in life.
Advising coordinator Patsy Fischer, said she hoped everyone learned something from Cabrera's speech.
"I hope this message made students realize that they can be successful no matter what their past is or where they come from," stated Mrs Fischer.
Cabrera left the students with the statement, "If there is to be, it must start with you."
Hang on for a minute...we're trying to find some more stories you might like.
About the Writer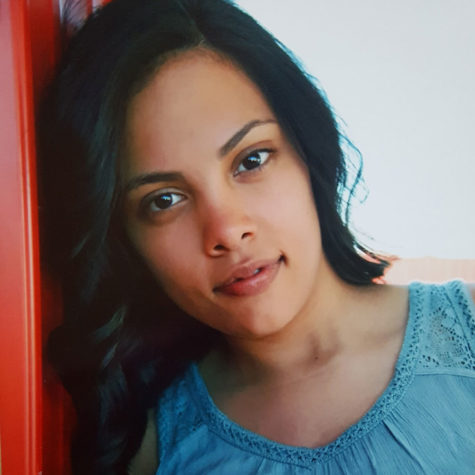 Andrea Sanchez, Club Reporter (Fall)
Andrea Sanchez is a second year student at SCCC planning to transfer to KU in the spring of 2018. She is majoring in psychology given her fascination of the human mind and behavior. In her spare time, Andrea enjoys hiking, camping, swimming, reading and going on adventures. She hopes to travel the world someday and learn about different cultures. Andrea appreciates every learning opportunity and people with a good sense of humor. She absolutely loves coffee!