Mounsey makes history scoring 1,000 career points
On Wednesday, January 10, the Lady Saints dominated Dodge City with a final score of 88-53. In the win, Sophomore Mollie Mounsey became the 8th Lady Saint to reach over 1,000 career points. That night, Mounsey finished with 17 points, putting her with a total of 1,008 career point so far.

Within over a year and a half, Mounsey was able to accomplish any athletes goal, which normally takes about four years to reach.
So far, there have only been eight elite Lady Saints to score over 1,000 points: Tegan Cunningham (2006-08) – 1,368 pts, Jamie Talbert (1998-2000) – 1,274 pts, Kim Ortega (2000-02) – 1,267 pts, Rachel Barnes (2008-10) – 1,170 pts (Last Lady Saint to score 1,000 before Mounsey), Tracy Wynn (2000-02)– 1,154 pts, Stacy Wewe (1993-95)– 1,141 pts, Alyson Uppendahl (1996-98) – 1,029 pts, and the most recent, Mollie Mounsey – 1,008 pts.
"It's very unbelievable! Coming to Seward and thinking about scoring 1,000 points, I just didn't think it would really happen or did I believe it would. All that was really on my mind was hopefully getting some playing time. My main goal coming to Seward was to win a national championship. Over a year and a half, I really believe it now," Mounsey said.
"I knew it would happen once she walked into the gym. She has the best shot I've seen in a very long time. The way Mollie shoots the ball, once she touches the ball and her teammates find her, I knew it was going to happen," Assistant Women's Basketball Coach, Carlo Walton, said.
In 2016, Mounsey started in all 35 games and was averaging 19.9 points, 5.5 rebounds, and 3 assists per game. Mounsey led the Lady Saints in scoring, all collegiate women's basketball players (DI,DII,DIII,NAIA, NJCAA) in three pointers (143 total), scored in double digits in 34 straight games, and scored a career high 40 points against Garden City, with a career high 10 three pointers in the same game.
Mounsey was the first freshman to receive All-American honors. She put together one of the best individual seasons in SCCC history in 2016-2017. Mounsey was the Jayhawk Conference Most Valuable Player and the conference Freshman of the Year. Shewas also invited to, and participated in, the NJCAA All-Star Weekend in Niceville, FL.
For the 2017-18 season, Mounsey is averaging 19 points, 4.2 rebounds, and 3 assists per game. So far, she is 91.1% on free throws.
From the fans to the students and teaching staff at SCCC, Mounsey is heavily supported and loved. In every game, al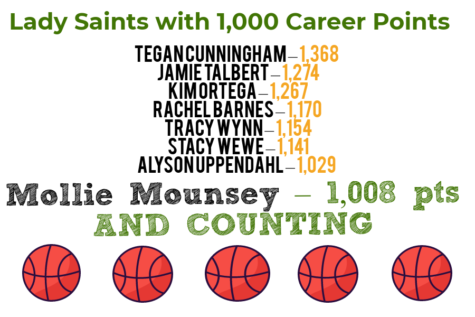 l eyes are on her and she puts on a show with her breathtaking three's and her great style of playing basketball.
"My expectations for her is to be the best player on the floor and to be the leader she is. She doesn't say much but she leads by example and she's our hard worker day and night," Coach Walton said.
"Knowing that the fans, my teammates and my coaches have high expectations for me, I just try to not let the pressure get to me. If I don't think about it, then it won't really get to me. Before the game, I really focus on what I am going to do once I step on the court and hopefully win the game," Mounsey said.
Mounsey will continue her educational and basketball career at Colorado State University. Mounsey will head to Fort Collins, Colorado to play for the Rams under Head Coach Ryun Williams.
"My advice for her once she goes to Colorado State is to enjoy it, have fun and keep shooting and know that she has a lot of love and support here at SCCC," Assistant Coach Walton said.
Mounsey and the Lady Saints will return to the Greenhouse on Saturday, January 13, at 6 p.m. against Garden City Community College.