Richie Narvaez visits SCCC virtually
Hispanic heritage month is a month used to celebrate Hispanic voices. Seward County Community College invited Richie Narvaez to do a Q and A luncheon as part of the college's celebration on Sept. 23. Narvaez is a Puerto Rican writer who grew up in Brooklyn, New York, and has utilized Latino characters in his crime fiction.
Narvaez started out describing his first experiences as a writer when he was in the third grade where he wrote and illustrated a story about dinosaurs taking over the world. He admitted writing wasn't his first passion and that he wanted to be an illustrator instead of an author. But when his brother started to write stories for extra credit at school, Narvaez, in the spirit of friendly competition, started to write short stories too.
"I got jealous and so I started doing the same thing and writing stories, and I realized I really liked this art form… it spoke to me more than drawing even though I still drew quite a bit," Narvaez said.
Though Narvaez had found his calling as a writer, when he started college, he aspired to be the first Puerto Rican astronaut. After taking classes to pursue a career as an astronaut, Narvaez realized it wasn't for him and he settled on becoming a writer.
Narvaez recollected getting a few of his stories and poems published in literary magazines after college, and the rejection he faced afterwards. As he started to really develop his style, he noticed he couldn't get any magazines to accept his stories, and he turned to writing zines (self-published magazines).
"
… it was this shady world that my father was a part of but it seemed normal to me and I was fascinated by it."
— Richie Narvaez
"I did that for quite a while. It was basically a cynical reaction …  and an immature reaction to rejection, but, finally I got around to writing short stories [again]," Narvaez said as he described his transition to writing again.
Unlike the authors who fixate on romance and action in their stories, Narvaez had utilized his fascination with crime to write stories focusing on the noir genre, which features characters in a grey area of good and bad. His fascination with the genre is credited to his father, who was a numbers bookie. When Narvaez was with his father in the daytime, he was exposed to this criminal world of underground gambling.
"I would go with him because this was 'visiting with dad' and he would go to see his friends and they would have large amounts of cash that they would exchange," Narvaez said.
Narvaez's stories focus on crime and the underground enabling him to include Latino characters into his fiction—characters he feels have been sidelined in the past.
"It's kind of important that these characters who are on the sideline get their chance in the spotlight," Narvaez said.
Given the fiction he writes, Narvaez struggled with the way he was possibly misrepresenting Latino characters as being just criminals, but realized even in the most niche genres it's still important to represent these characters.
"Do I really want to put them next to this kind of world," Narvaez said as he explained his worries about how he was representing Latinos in his fiction. "I think it's important actually to do it because it shows that this is fiction but it also shows that Latino Americans are complex characters and … part of becoming the mainstream where there would be Latino mystery fiction."
Narvaez also talked about using one of his newer novels "Hipster Death Rattle" as a way to touch on the subject of gentrification in his old neighborhood Williamsburg, located in Brooklyn, New York. The novel focuses on a man wielding a homemade machete that he uses to murder people. 
"There are still Puerto Ricans in the neighborhood but now it's heavily overpriced, it's heavily crowded [and] it's overdeveloped with so many buildings that it's kind of [an] uncomfortable place to live in," Narvaez explained.
Towards the end of the zoom session, Narvaez answered questions from a few of the attendees who watched in the library via zoom.
About the Contributors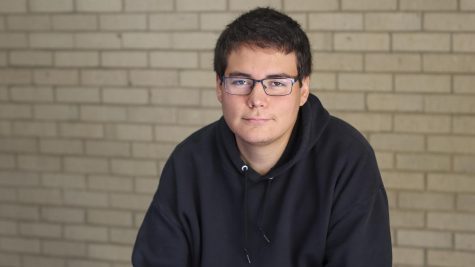 William Swanson, Reporter
William Swanson is a simple man, he writes mediocre articles and he plays Halo 3. Water is his favorite food. He also thinks...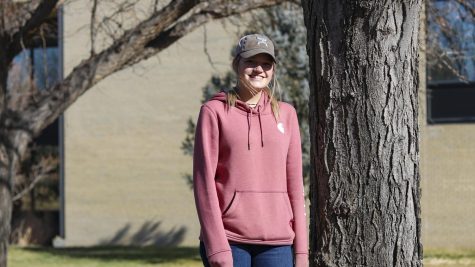 Brooklynn Bauer, Club Photographer
Brooklynn Bauer is a 19-year-old sophomore and is a Liberal local. She is majoring in Ag Business and Communications. Along...