Esports comes to SCCC in Fall 2023
A rise in the popularity of video games brings forth a subculture that has been gaining traction. A culture of skill and competitiveness. The name of this subculture of gaming is called esports. Esports or electronic sports is a type of sporting event where video games are played competitively. Starting the fall of 2023, Seward County Community College will have an official esports team.
The decision to have an esports team on campus has been talked about in the past, but the board of trustees seeing the success of other colleges' esports teams and growing interest in the field has made it a topic for conversation. The decision was finally made in December among the board of trustees to approve of the esports team for SCCC. Since then, preparations are underway to get the team started for the fall.
Kenny Hernandez, the assistant director of athletics for communications, mentioned that the esports team will not be limited on what they'll use for a gaming platform. Both console and PC will be used for practice. However the types of games that will be practiced are limited to 8 titles right now. "Valorant", "Super Smash Bros Ultimate", "Overwatch", "Hearthstone", "Rainbow 6", "Madden 21", "FIFA 21", "Rocket League". These titles are the only ones the National Junior College Athletic Association recognizes for officially sanctioned tournaments.
Just like the other sports teams, esports will also have a facility to practice at.
"There will be a facility on campus. The gaming arena," Hernandez said. 
The gaming arena, or the "Arena" will house all the gaming equipment the esports team will be using. The Arena will be located in the Industrial Technical Building right across from Louis' place.
Eric D. Volden, the new head coach for the esports team was announced as well. Volden has experience in esports doing analysis and casting for a couple of different organizations, as well as being a competitor in amateur tournaments. Given his past experience Volden was appointed head coach. In the past Volden tried to get an esports club started, though it wasn't officially sanctioned. 
To be a part of the new esports, interested parties just need to express interest. Officially the team only has so many spots for team members, but for those that couldn't make the team Volden is having an esports club put together. The club can consist of anyone that is interested in esports who wants to improve their gaming skills. This will help them hone their skills and allow for the official team to have scrimmage matches to practice. 
"It's more to get them to work as a team." Volden said.
Some students have already expressed an interest in joining the team and asked about what kind of qualification they might need. To be considered Volden looks at their ranking in game along with their matchmaking rankings. Ranks are looked at to judge their skills. 
Damion Davis, a student interested in joining, mentioned the conditions they're looking for. 
"When I asked he said at minimum you'll need to reach diamond or platinum rank. Whichever is higher on the game you're playing."
Teamwork, coordination, and individual skill is all looked at and observed when being considered for the team. However all are welcome to put their hat into the ring and compete for a spot to represent the new SCCC esports team in the fall of 2023.
About the Writer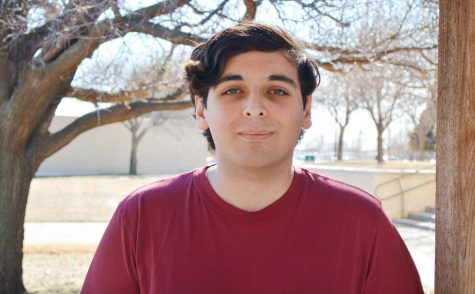 Daniel Rodriguez, Reporter
Daniel Rodriguez is a 22-year-old student going on 4 years at Seward County Community College. Currently he majors in education....