Hernandez mejora su vida en los Estados Unidos
Hang on for a minute...we're trying to find some more stories you might like.
Sonia Hernández es la STEM Especialista en Educación. Hernández trabaja en el Centro Colvin y también en Seward County Community College. Su trabajo consiste en dar clases de GED, ayudar a los alumnos e incluso organiza y se está reuniendo para obtener nuevas clases aprobadas en el Centro Colvin.
Hernández venio a los Estados Unidos para una mejor vida. Ella trabajó duro para obtener el trabajo que tiene hoy.
Antes de venir a los Estados Unidos, Hernández tenía una vida estable. Ella terminó su educación y tenía su licencia. Hernández tenía su trabajo, casa, y trabajo.
Los padres de Hernández vinieron a los estados unidos para una vida mejor para la familia. Tomó tiempo hasta que los Hernández y sus hermanos pudieran venir también. Cuando llegó la hora de venir, Hernández ya no tuvo la oportunidad por hacer mayor de edad.
"Cuando mis padres finalmente consiguieron que mis hermanos y yo estuviéramos con ellos en los Estados Unidos, lamentablemente no pude ir. Nunca quise venir aquí ilegalmente y como tenía 18 años no me permitieron ir y tuve que esperar más tiempo que toda mi familia," Hernandez dijo.
Mientras la familia de Hernández estaba aqui, Hernández estaba en México con su hija trabajando. Después de bastante tiempo ella fue capaz de obtener una visa y venir a los Estados Unidos con su familia.
Al llegar a los Estados Unidos, Hernández estaba dispuesta a dejar todo en México detrás. Dejó su trabajo, caro, casa; dejó toda su vida atrás para una mejor.
Hernández empiezo con nada en llegar. Hernández tuvo la oportunidad de trabajar y la tomo.
Uno de los trabajos que tuvo Hernández fui en la National Beef. "Era un trabajo difícil y no quería seguir allí. Quería seguir mejorando y encontrar algo mejor," Hernández dijo.
En estar trabajando, Hernández empiezo a tomar clases de inglés en el Centro Colvin. Para Hernández era muy dura esta rutina. Trabajaría durante todo el día y volvería a casa para ver a su hija durante un corto período de tiempo, porque entonces se dirigía a sus clases.
Aunque fue difícil, Hernández continuó con esta rutina. Sabía que si seguía adelante, lograba obtener una vida mejor y más oportunidades. Y no lo hizo sólo para ella sino también para su hija.
Después de estar aquí por un tiempo, la visa de Hernández se expiro y ella siguió en los Estados Unidos ilegalmente. Si, ella estaba aquí sin su visa, sin papeles, pero Hernández siguió para adelante.
Hernández consiguió sus papeles y siguió mejorando su vida. Cuando Hernández terminó sus clases en el Centro Colvin, entonces solicitó mejores trabajos en los que realmente quería trabajar. Uno de los trabajos a los que solicitó fue el Centro Colvin. Ella consiguió el trabajo y ahora lo disfruta.
"Me encanta trabajar aquí porque quiero ayudar a la gente que está pasando por la situación que pasé cuando llegué a los Estados Unidos. Puedo relacionarme con ellos y me hace más fácil ayudar. Ver que la gente quiere mejorar su vida me hace feliz," Hernandez dijo.
Hang on for a minute...we're trying to find some more stories you might like.
About the Contributors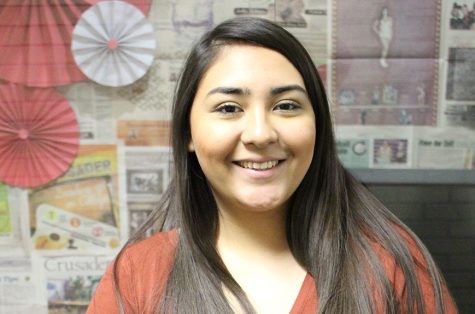 Angelica Alfaro, Editor
Angelica Alfaro's niece and nephew are her favorite human beings ever. Fall is her favorite season because she gets to stay in. She's a homebody, and...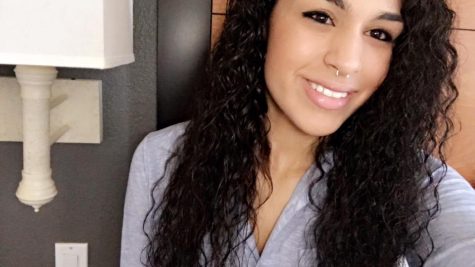 Brynn Grieshaber, Co-Editor
Brynn Grieshaber, co-editor of the SCCC Crusader, is just a hardworking, 20-year-old kid, who spends her days waitressing at Pizza Hut. The rest of the...