Life through a new set of eyes
Crusader staff meets pulitzer prize winner
The room filled with silence as David Alvey, mayor of Kansas City, gave his introduction speech on two-time pulitzer prize winner, Sonia Nazario. Nazario then stepped up to the platform and told the audience of some brutal truths in her time as a journalist, specifically watching kids as they got on a train from Central America to the border in Mexico and then to the United States.
Seward County Community College's Crusader News had the opportunity to attend Nazario's presentation due to the partnership with Humanities Kansas, in which Crusader staff members showcased Southwest Kansas Hispanic culture.
While presenting, it took a lot for her not to cry throughout the presentation. She talked about her family and how they came from Argentina to escape the military takeover. She described herself and some as people "who always had something to say." Her ambition and pursuit drove her to speak for others.
Her first investigation was about kids who were going to school hungry. Families suffering through poverty don't have the ability to afford much food, so kids coming from these homes would take food from schools when they had the chance.
Nazario mentions one little boy who would purposely get into trouble to grab candy from the principal's office. The crowd was silenced in awe. When she targeted drug addicted parents raising their kids, the audience members had tears in their eyes.
What had everyone crying in the end was her emotional talk about Enrique, the boy in her book, who left Honduras to go look for his mother in the U.S. This was a pivoting point for Nazario, as she found her voice. She now knew what she was fighting for, the kids from all over Central America who jumped on the train. The kids who took the step in leaving their poor country, the country that is falling apart and being taken over by gangs.
Nazario followed Enrique on his journey to find his mother which led them into several dangerous situations. Nazario held back her tears when she explained how she was almost raped by one of the gang members.
"It took six months of therapy but my heart still races when I hear the sound of the train," Nazario stated.
Nazario's voice and ability to speak for others has helped her excel in the work that she does.
"I had something to say and I want people to get to know an immigrant and put themselves in their shoes and see a different view as to why these kids come here," Nazario said when asked about why she does the work that she does.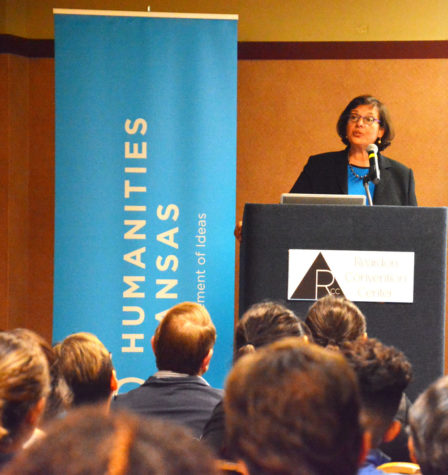 Throughout the presentation, Nazario showed heart wrenching photographs of kids who have gone through the train several times.
One story even included a boy who lost his leg after an attempt to get to the border by train. This kid lost his leg, yet still continued to try because being with his family was most important.
"Being a journalist isn't easy", Nazario pointed out. "Learn to be a powerful writer and know what you want to write about."
The power in her writing led to the success of Nazario's book "Enrique's Journey." It has been read by several schools and colleges around the country and it is opening the hearts of those who have no insight to immigration issues.
"I had a skinhead, total white supremacist email me telling me that he grew up and was taught to hate people of a different color. 'Never would I have opened my eyes to immigrants if it wasn't for your book,' he said."
Nazario recalled the moment in total fascination.
"If people would get to know an immigrant and put themselves in their shoes, they would see that not all immigrants are criminals like others makes them out to be. They are coming here to seek refuge because they have nowhere to run to when their country is dangerous," Nazario said.
"Enrique's Journey" continues to tell the story of a real boy and his real life experiences about his journey to find his mother and reunite with her. This sad but wonderful story continues to reach others and give them a new perspective on not only immigrants, but life in general.
About the Contributors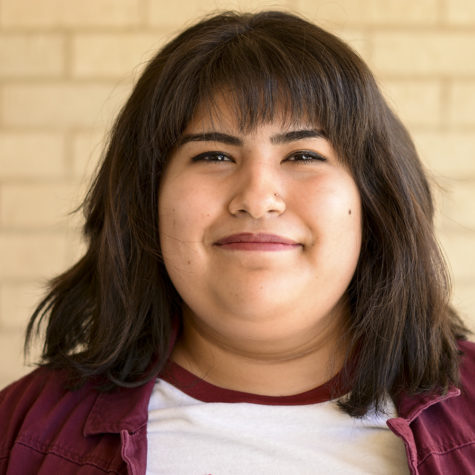 Michelle Mattich, Managing Editor
Michelle Mattich was born in El Paso, Texas She enjoys writing, and listening to music. She also enjoys reading a good book...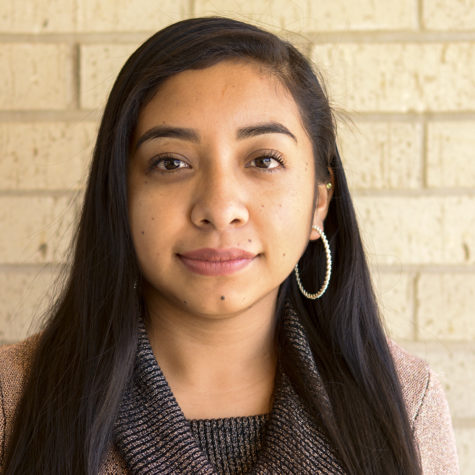 Rubi Gallegos, Photo Editor
Margarita "Rubi" Gallegos is a freshman majoring in Digital Photography. She was born in Tierra Blanca, Guanajuato, Mexico...