Lady Saints defeat Barton Community College quickly
Coach Tony Trifonov Earns 400th Win during the match
Seward County Community College's Head Volleyball Coach Tony Trifonov earned his 400th win in The Greenhouse on Wed Oct 10 during a Lady Saint win over Barton Community College. The Lady Saints defeated Barton in three short sets, making them 11-0 in conference play.
Lady Saints started off the night slow, allowing the Lady Cougars to lead 4-3 early in the first set. Lady Saints were able to earn three consecutive points to gain the lead, but Barton answered and regained the lead halfway through the set. Fighting back hard,  Lady Saints earned seven out of nine points and winning, 25-20.
In the second set, Seward played with a never-give-up attitude and wouldn't let the ball hit the floor without putting up a fight first.
"Our serve receiving was really good tonight. We have been struggling with that for a while. Our serving for the majority of the part was very effective as well," Trifonov said.
Barton and the Lady Saints traded points throughout the set until SCCC pulled away with an 19-11 lead. Seward began to struggle, allowing Barton to fight back 20-18, but back to back errors by Lady Cougars gave Seward the win, 25-16.
The third set was filled with momentum from the Lady Saints. Sophomore Middle Hitter and NJCAA National Player of the Week, Luz Sierra led the team with back-to-back-to-back kills throughout the set.
The set was close for most of the time, with both teams volleying for long periods of time. During these volleys, the Lady Saints performed some amazing saves throughout the set to keep the lead, but Barton continued to put up a fight, losing by just 2, 20-18.
Freshman Middle Hitter, Thais Vieira; Freshman Setter, Laura De Pra; Sierra and Sophomore Right Side, Giovanna Tapigliani contributed the final five points that would give the Lady Saints the 3-0 win.
Leading the Lady Saints is Head Coach Trifonov. Trifonov earned his 400th career win as a college volleyball coach. The Lady Saints' ability to never give up throughout the touch match was a contributing factor.
"It wasn't easy and it's never easy when you get to those milestones. I remember my 200th was against Long Beach State at Long Beach. They were no. 23 in the country. This one is no different. Barton's a good team, they've improved a lot throughout the season. I'm glad our kids played with a lot of fight and were able to hold them off," Trifonov said.
In addition to Trifonov's success, the success that Sierra has had this season is being noticed, not only by SCCC fans, but by the National Junior College Athletic Association as well. Sierra is averaging 2.62 kills and .084 blocks per set.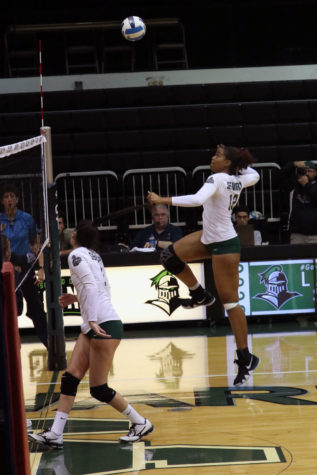 In total, she has 76 blocks and 238 kills. She has been named Jayhawk West Player of the Week twice, once for her offensive performance and once for her defense. Throughout her career at Seward County, she has also been named Jayhawk West Defensive Player of the Week (2), NJCAA National Offensive Player of the Week and NJCAA National Defensive Player of the Week.
"I feel amazing. It's a blessing to me to be the leader of my teammates. I'm playing better than last year. Last year I had a lot of problems with my transition and my slide, but I worked hard and my coaches helped me and now I'm better. I'm so proud of me," Sierra mentioned.
Sierra, along with the rest of her team have high hopes for the outcome of the season.
"We're going to go to the National Tournament and we're going to win Nationals," Sierra said.
The Lady Saints will work their way towards their goal as they go back up against Barton in Great Bend on Oct 15, starting at 6:30 p.m.
"It's going to be tougher than it was here playing on the road. We're going to give the kids a couple of days off and then get back in the gym and work," Trifonov said.