Traditional Thanksgiving means different foods for different people
SCCC hosts annual meal for community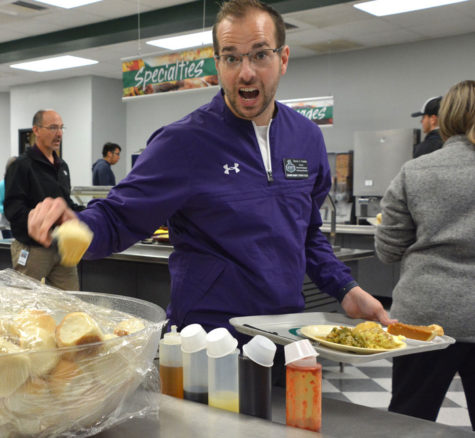 Thanksgiving just isn't the same without food. Seward County Community College makes sure students and the community get their fair share every year.  Great Western Dining hosted the annual Thanksgiving luncheon in the student union on Nov. 13.
The lines were long and people were eager to eat traditional Thanksgiving food. Jerry Odle, the food service director at SCCC, was prepared for the mass of people attending.
"Close to 600 people attended today. We have prepared around 250 pounds of Turkey, 250 pounds of Ham, 100 pounds of vegetables, 200 pounds of yams, and 400 pounds of Potatoes." Odle said.
Although this campus-wide lunch included traditional thanksgiving favorites, not everyone follows procedure. Standing in line,  everyone debated what "traditional" Thanksgiving food really is. Turkey sounds like a no-brainer for the annual feast but that's not always the case. Several students just didn't fit into that "traditional" category when they dream of the holiday that honors "thankfulness" by eating comfort food.
Adriana Salcedo, freshman nursing major from Moscow, says her family includes traditional Mexican food in their thanksgiving feast, such as Menudo and Tamales. "My family makes it every year."
With every holiday comes funny memories. Adamary Mogana, freshman cosmetology student, recalls her family's tradition. "My family makes carne asada and by the end of the night they get drunk together."
It may not be like this for everyone as some people stick to the thanksgiving traditions, such as stuffing and cranberry sauce.
For some students its all about the favorites. Andrea Urbina, a nursing major from Ulysses, says her favorite food is stuffing. While her friend Aubrey Horton, also a nursing major, says cranberry sauce is her favorite food.
"Take the cranberry sauce out of the can and slice it and put it on top of your stuffing," Horton explains. "Mmmm it's delicious"
Everything is about food and how it hits home. For Molleigh McCormack, a Freshman Biology major from Moscow, describes her Great aunts dressing recipe and how its a thanksgiving must.
"My grandma makes it every year" McCormack said.
Thanksgiving is a time to rejoice and be thankful, but be even more thankful for delicious food.