Lady Saints move into semi-finals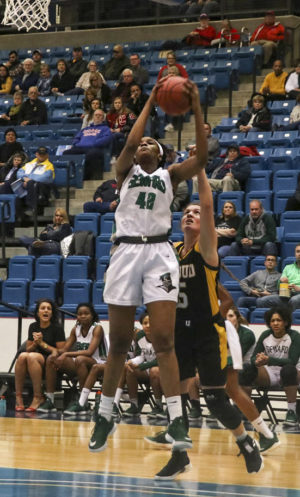 PARK CITY — The second and third quarters were all the Lady Saints needed to get past Cloud County, March 2, in the Region VI quarterfinals in Hartman Arena, Park City. Seward County Community College was never behind and won easily with a score of 74-59.
Even though they never trailed in the game, it took the first quarter for the Lady Saints to warm up. Seward caught fire in the second quarter and never looked back. While the women in green went on a scoring spree, they held Cloud County to single digits in scoring for consecutive quarters.
Lexi Hernandez and Vonda Cuamba each scored 14 points to pace Seward at 23 wins in a row. Karolina Szydlowska added 12 points and seven rebounds, Kalen Green netted 11 and Carla Covane chipped in with 12 rebounds and five points for the Lady Saints, who improved to 29-2 on the season.
Scout Frame had 21 points and 13 rebounds and Chase Siedlik scored 10 for Cloud County, which ended its season at 18-13.
The Lady Saints advance to the semi-finals to play Barton on Monday at 3 p.m. You can listen to them on 107.5 KSCB or stream the game from here.
Touch/Click on photo to see entire gallery and captions.