College celebrates 50 years over Labor Day weekend
This year marks the 50th anniversary of Seward County Community College's opening. To celebrate this milestone, SCCC hosted many festivities over the Labor Day weekend such as a pancake breakfast, an opportunity to check out seward athletics, lawn games, campus tours, the Hall of Saints Alumni induction ceremony and lots of free food. A car show and time capsule ceremony closed up the fun.
On Sept. 1, the Industrial Tech campus was filled with new and old hot rods and car lovers from the community. A former SCCC student, Dustin Heronemus, entered his 1954 Chevy 3100 and had an interesting backstory to go with it. 
"I bought 'The Beast' in 1987 while I was a student in Auto Body 1," he said. "I bought it in great condition, but it was stolen from me in '91 and I didn't get it back until 2014. I bought it back for $400. 
"It suffered from smoke and heat damage so I've been fixing it up and I hope to get some better upgrades," Heronemus said. 
Another attendee of the car show, Josh Knudsen, said he was "having a great time." It was his first car show for the 1950 Pontiac Silver Streak he entered.
"This is my first car. My Uncle gave it to me when I was 14, but it was passed down from my grandpa. It's a family car," Knudsen, a junior at Fellowship Baptist High School and concurrent student at SCCC. "I plan on repainting it in my auto body class this semester." 
There were 45 cars entered in the show. Winners are: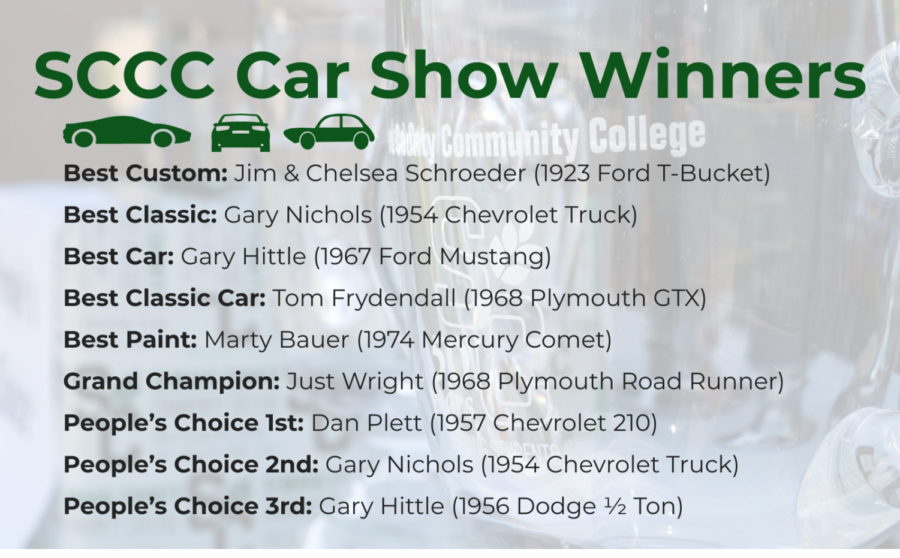 "There was a great turnout this weekend," Rachel Coleman, SCCC executive director of marketing and public relations, said. 
Coleman added that there will be many more events throughout the year to celebrate the 50 year anniversary of SCCC.