Taste of Kansas brings variety and diversity to SCCC
The second annual campus wide potluck, Taste of Kansas, was a way for students, staff and community members to share their favorite traditional plates on Kansas Day. The aroma of food filled the hall of the Hobble Academic building, as a long line of community members and students filled the library.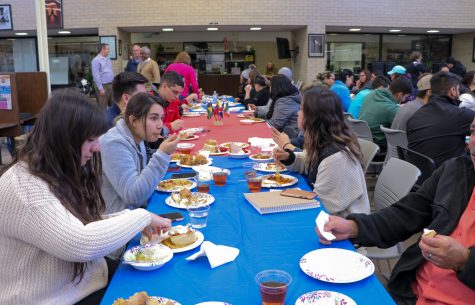 More than 200 people attended the potluck and about 50 plates of food were brought all together on Jan. 29. The event was coordinated by the inclusiveness team on campus. 
Students from the Colvin learning center were welcome to bring dishes, as well as staff and Seward County Community College students. Alma Varela, an ESL student brought a spaghetti plate. She said that she thinks this kind of event is important for the community to attend because it gives people an idea of the types of cultures that are prominent in Liberal. 
GED instructor Andrea Rangel and ESL instructor Victoria Banes agree, and said that understanding the diversity and different kinds of cultures that make up this town is important.
"It's a wonderful thing to learn about different cultures and getting to try their foods is good for everyone," Banes said.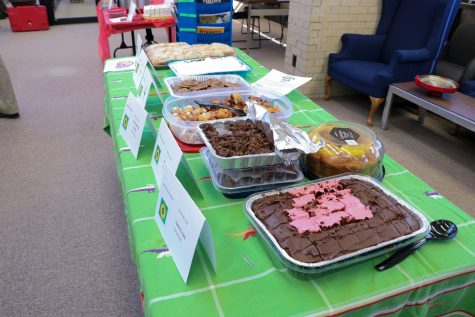 Plates such as enchiladas, German dumplings, tomato cake, green curry, pastas and more were included in the cuisine for the potluck. Sophomore nursing major Adriana Salcedo said her favorite dish was the Frijoles Charros, which is a traditional Mexican side dish. 
"It's been my favorite dish ever since I was a little girl so I was really happy I got to try them here," Salcedo said. 
Some particular dishes also helped international students and athletes feel like they were back home again. 
"We asked the students and athletes what dishes they missed the most from home and we got answers such as foods from Mozambique, Pirogies which were a polish dish, and Stroganoff," Coleman said. "One student was really homesick for home made fried chicken and so someone got five live chickens and cooked them."
Students like science major Arturo Martinez enjoyed the fact that the foods were from different places and countries from around the world because it's different from his usual diet. 
"I think it's important to know what other people eat just to get to know their eating habits, whether it's healthy or unhealthy for our bodies and it's just interesting because of that reason," Martinez said.