Volleyball team looks strong
Volleyball is a competitive and passionate sport played all around the word. Both men and women enjoy engaging in this type of physical sport. The variety of positions and play styles have brought together the Saints volleyball team as they prepare for their new season.
"They still have some work to do like improve on offense and serving," said Coach Thais B. Allen, known around campus as 'Coach B.'

"
They still have some work to do like improve on offense and serving.
— Thais B. Allen, volleyball coach
This year's volleyball team has improved a great deal on their back row, which consists of a defensive setter and a defense specialist called a libero. Returning sophomores include Kimberly Diaz, defensive setter; Maritza Mesa, right side hitter; Kaysie Paxton, right side hitter; Amanda Pereira, setter; Viviane Viana, outside hitter; and Belissa Guidotti, middle blocker.
"Belissa has improved the most from our returning team. She's an absolute powerhouse who lacked offense but has worked hard to improve her skills," Allen said.
Coach Allen also has many expectations for the upcoming season including the hopes to continue being a top team, being in a higher seed and winning nationals.
Allen said, "I'm most looking forward to playing in the conference games as well as the bus trips – those are always fun."
The team is also looking strong with the recruitment of freshman players  Diamond Aguinaldo, defensive setter; Brianna Domino, outside Hitter; Erica Ferreira, outside hitter;  Giovanna Kuntze, setter; Jazlyn Smith, defensive setter; Brianna Williams, middle blocker; and Paulina Zachary, outside and right side hitter who is a sophomore transfer student and new to the team.
This year's team has several international students. For these students who traveled to Seward from out of the country, volleyball has become their home away from home.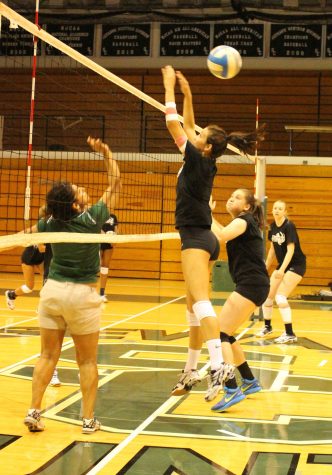 "This is my first time being away from home so long. I'm usually gone for around three weeks, but no more than that. I'm also really close to my family so leaving them was really hard," said Giovanna Kuntze, who is from Rio de Janeiro, Brazil.
Seward has given Kuntze the opportunity to study and play volleyball.
"In Brazil you either choose to study or to play volleyball – you can't to do both like here at Seward," Kuntze said.
For the volleyball team, being away from home doesn't mean a person is away from family.
Kuntze said, "Coach B is like another mother to us, she helps us a lot, and she knows how it feels to be far away from home. We're all very happy to have someone like her."
Kimberly Diaz, a sophomore defensive specialist originally from Puerto Rico, said, "It's really hard and sad to be away from home, especially since most of my family is there and I miss them. But the girls I have met here quickly became a part of that family."