Lady Saints volleyball dominates OPSU in first scrimmage of the year
It was a good day in the Greenhouse for the Lady Saints volleyball team as they swept the OPSU Aggies in three games during their first scrimmage of the year. The Lady Saints won a very convincing first match. While they did have a few misplays, the Saints were able to control the net for a majority of the total points. In the second match, the Lady Saints showed great confidence in their abilities, as they quickly forgot about the last point and focused on the next one.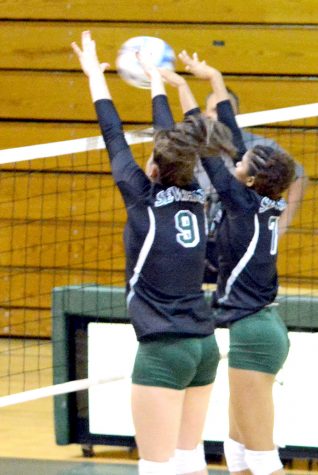 Overall, the power and accuracy of the Lady Saints blocking overwhelmed the Aggies as they were constantly have ball blocked right back into themselves. The team has set high expectations for the upcoming season.
Head coach Thais B. Allen said, "We served poorly, we got stuck in a couple of rotations… but we transitioned really well, and we blocked well and played defense well."
There is still room to improve and Allen plans on capitalizing on all of her players potential.
"We just got picked second [in the preseason KJCCC poll] so that's a goal that we have set for ourselves, either finish second or win the conference,"Allen said.
After seeing her team play, Allen is looking forward to the rest of the season. She also mentioned that she felt this was good for the team because they had only practiced in the last two weeks and it helped her see all of the pros and cons.
"It was good to play some other people and see how we do in game like situations," Allen said, "It builds everyone's confidence."
No matter the scoreboard or the outcome of a play, the team remained positive. Every team member played with excitement and even if a teammate had a bad play, they made a group effort to remain positive and it payed off.
The Lady Saints volleyball team plays OPSU again on Saturday August 20 in Goodwell, TX. The next home game hosted at the Greenhouse will be on Friday September 2 against Butler Community College. For more information and to see the box score, please visit www.sewardsaints.com.