Community rallies for support of Somali residents
The mosque located in downtown Liberal is usually a place packed with worshipers. As of late, this sanctuary where man and faith intertwine as been mostly vacant with only a person or two in attendance.
The absences come as a response to the arrest of three men charged with conspiring to use a weapon of mass destruction after allegedly plotting to plant bombs at an apartment complex housing Somalis in Garden City. Two of the men, Curtis Allen, 47, and Gavin Wright, 49, are both from Liberal. The two men along with a third conspire, Patrick Eugene Stein, 51, of Wright, Kansas, have claimed they specifically targeted the complex because of it's residents who identify as Muslims.
In the wake of this news, Seward Community College has come together to support our Somali students and community. Travis Combs, Director of Colvin Adult Learning Center, teamed up with the Liberal Police Department to arrange a rally where members of the Somali community sat down with members of our community to voice their concerns and discuss how to keep the community safe.
On Sunday Oct. 23, the Colvin Center was filled with visitors old and new. SCCC President Ken Trzaska, Liberal Mayor Joe Denoyer and State Representative Shannon Francis along with city commissioners, pastors from local churches and Somali residents were all in attendance. Al Sill, Chief of Police, had hopes for this meeting to begin open dialogue within the community.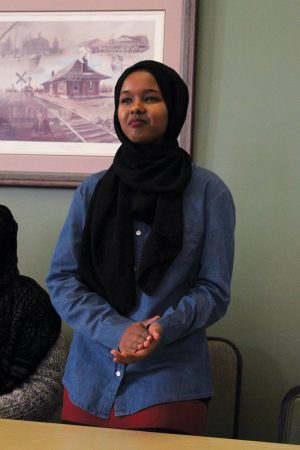 "We decided we need to sit down with our Somali community. Obviously to reassure everybody in the community that you are safe and that if you choose to move somewhere else, you're not escaping any of the problems that you have in the world," said Sill.
The Somali community is made up of about 50 people. Sill assured that even with it being small community, it is still an important one.
"You're not just a group of 50 [Somalis], you're a community of 22,000 people," Sil said.
"Those who promote hate and terror- that is not the norm in this community. Liberal is a loving community and a very caring community. We welcome everybody with open arms," said Denoyer. "The events of the last few weeks has, if anything, woken us up. We had become complacent. We know now that we have to be diligent. We have to have each other's back. We have to look out for each other. We have to reach out to our neighbors and once again we have to get to know each other better. Where there is fear, we would like to promote courage. Where there is hate, we would like to foster love. Where there is terror, we would like to advocate for peace."
SCCC second year student and business administration major Qali Farah was in attendance with her sister Ambiyo Farah as a translator. Several Somali community members voiced their appreciation for support along with their concerns for the future.
Tajo Yusuf, mother of three, shared her concerns once she found out about the planned attack.
"I was thinking about quitting my job. There was a lot of pressure and stress on the situation. Instead of providing for my kids I was fearing for my kids safety," said Yusuf.
After openly discussing concerns and opinions, everyone stayed to chat and get to know one another. People conversed not just about the event but also about their jobs, their kids, and the place they call home.
Sills said, "This event has given us an opportunity to bridge gaps so we can get the word out within the community. We want members of the community to know they are safe and don't have to live in fear."