Lady Saints finish first in Jayhawk West
The Lady Saints have won the Jayhawk West Conference Championship after a clean win against Colby Community College after an impressive set winning 3-0. The performance shown by Seward County was the one expected. A lot of confidence was invading the players and every single point was clear proof thereof.
It was a game between the top two teams in the conference and the game started tied, as expected, until the Lady Saints set a difference of 5 points at the 22-17 mark to take the first big lead of the match.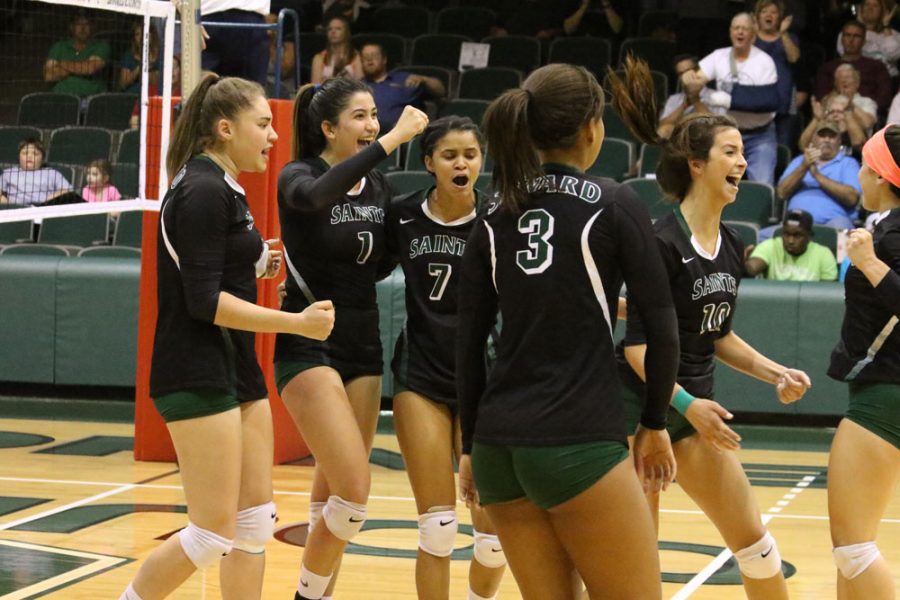 The first set went for the home side when Mariana Nascimento smashed a really good center ball set up Amanda Pereira. The Lady Saints were closer to the win and the public started its typical support. A bunch of tennis players jumping, singing, and also booing the opposing team. The party had started and the path for the championship seemed to be quite open. In the second set Colby grabbed the lead quickly but the game came back to a tie score of 10-10 in the first 20 points. Seward kept on pushing after that came back and got the lead with a 17-14 score. The Lady Saints kept the lead until the last point and made a really important gap in the game by winning the second set by 25-23.
The third set was a good example of how confidence the Lady Saints were feeling. It was completely dominated by Seward who never lost the lead by showing consistency and strong mental game. The score was always favorable to Seward and the game was seeming pretty much over when Seward established a huge difference over the Lady Trojans for a score of 23-16. Colby Community College saw the comeback as impossible and the Lady Saints swept a 3-0 win over Colby to secure the Jayhawk West Conference Championship on their side.
The Volleyball Lady Saints will return to action on Wednesday, Nov. 2 at 6:00 p.m. in the Greenhouse for the Region VI Tournament against Dodge City Community College. Come support your Jayhawk West Volleyball champions!